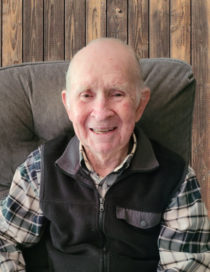 Roger Franklin Snow, 90, of Harmony, N.C., passed away on Saturday, June 17, 2023, at Gordon Hospice House in Statesville, N.C.
Roger was born on September 18, 1932, in Boonville, N.C., son of the late Winfield McKinley Snow and Elma Moser Snow. Roger served in the U.S. Army from 1954 to 1956 as corporal at Fort Bliss in El Paso, Texas. He was married to his wife Ulean Hayes Snow, who passed in 2017, for 65 years. He was a member of the American Legion Dick Norris Post 113 and served on the funeral honor detail. For the majority of his career, Roger worked as a driver at Pilot Freight Carriers for 30 years and was a member of Teamsters Union 391. He went on to work as a lane captain at Manheim Auto Auction for 22 years. Roger was a member at Holly Springs Baptist Church, where he served as a deacon and Sunday School Teacher.
Roger loved his family dearly. He loved to farm and raise a garden. For his entire life, he took special care of his black Angus cattle, his German shepherds, and his beloved cats.
Roger lived by example with a servant's heart. He loved the Lord and faithfully followed Him daily.
Those left to cherish Roger's memory include his daughter, Rev. Sharon Snow, and a number of nieces and nephews.
Roger's friends and family knew him to be humble, helpful, honest, and kind. He was always there for others, to love and cherish, to uphold and affirm.
Deepest gratitude to Deborah Ikner for her loving and devoted caregiving.
Heartfelt thanks to Katrina, Annette, Crystal, Aaron, JoAnn, and Edna of Hospice of Iredell County for extraordinary home care and to all of the Gordon House Hospice staff for their kindness and compassion.
Funeral services will be held Saturday, June 24, at Troutman Funeral Home at 1 p.m. with Rev. Dr. Beverly Fulbright, Rev. Lynne Lepley and Chaplain Aaron Macemore officiating. The family will visit with friends from 11:30 a.m. to 1 p.m. Active pallbearers will be Andy Allen, Brad Howard, Mike Howard, John Marlowe, Dicky Myers and Jason Shoemaker, and honorary pallbearers will be Buck Darnell and Jerry Renegar. Burial will follow the service at Holly Springs Baptist Church Cemetery.
Special request: Due to allergic reactions by family members, please refrain from wearing strong colognes or perfumes to the service. Thank you for your consideration.
Memorials may be made to Hospice and Palliative Care of Iredell County, 2347 Simonton Road, Statesville, NC 28625.
Troutman Funeral Home is serving the family.