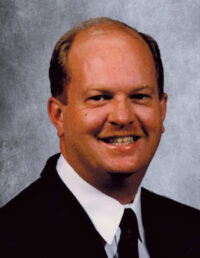 Ronald Eric Newton of Troutman/Mooresville, N.C., went to his heavenly home on July 23, 2023, at the age of 64. His loving wife of 28 years, Vicky, was by his side. He was born on January 30, 1959, in Lumberton, N.C.., to the late Joseph Herbert Newton and Angie Nesbit Newton. He was raised in Troutman and attended The Cove Church in Mooresville.
He enjoyed a remarkable career of 28 years with Piedmont/USAir/American Airlines and then another nine years with the United States Postal Service.
Eric was a kind and loving husband and steadfast friend. His smile would light up the room, and his stories and jokes would fill it with laughter. He enjoyed his time with family and friends making memories. Eric never met a stranger, just new friends. Eric loved fishing and all other sports, his three dogs, time at the beach and traveling the world.
He is survived by his brother Kim Newton; two nephews, Aaron and Bryan (Cynthia) Newton; two nieces, Samantha and Abigail; great nephew Cameron; and two great nieces, Evelyn and Savannah. Also surviving are his mother-in-law Clarice Wyse; brothers-in-law and sisters-in-law, Betty (Dan) Osborn, Rae Sue LaPoint (dec.), Joy (Chip) Whitmore, Tony (Lisa) Jaqua, Sonny (Susan) Wyse, Bonnie Wyse, Wendy (Steve) Manthe, Alan (Carla) Wyse, and Michael (Katie) Wyse. He was also cherished by many loving aunts, uncles, nieces, nephews, and cousins.
He shared a special bond with their exchange student (son) Jingshuo Li (Jack Martin).
A celebration of life will be held on August 5, 2023, at 11 a.m. at The Cove Church, 197 Langtree Road, Mooresville, NC 28117.
The Family requests that in lieu of flowers that any donations be made to "The American Cancer Society Hope Lodge" or "Burkitt Lymphoma Cancer Research."
Troutman Funeral Home is serving the family.