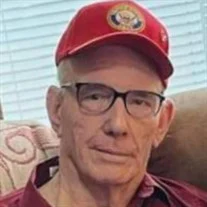 Ronald John "Ron" Hanuscin, 75, of Statesville, N.C., passed away peacefully Monday, March 6, 2023, after a long courageous battle with Parkinson's Disease.
Ron was born on February 4, 1948, in Warren, Ohio. to the late John Hanuscin and Bernadine Hanuscin. He graduated from Warren G. Harding High School. He went on to earn a college degree in business followed by twenty-one well served years in the U.S. Navy. He then put his business degree to use becoming a restaurant manager until retirement. Ron loved going on walks, spending quality time with family and watching night time game shows with his wife. Ron was a loving husband, an amazing father and a phenomenal grandpa. He enjoyed going to church and was a member of Horizon Church in Statesville.
He is survived by his wife, Nancy Hanuscin of Statesville; three daughters, Carla McCall, Kim Price and husband Joshua Price and Crystal Ashley, all of Statesville; one son, Michael Hanuscin of South Carolina; five granddaughters, Chloe Hayes of Mooresville, Nevaeh Price of Statesville, Isabella Elliott of Hickory, and Emily Hanuscin and McKenna Hanuscin, both of South Carolina; seven grandsons, Michael Hayes, Sidney Hayes, Nehemiah Hayes, Austin Ashley, Gage Price and Elijah McClain, all of Statesville, and Wesley Elliiott of Texas; one sister, Rosemary Savill of Florida; three Brothers, Jim Hanuscin of Ohio, and Jerome Hanuscin and Gregory Hanuscin, both of Florida.
The family will receive friends from 5 to 7 p.m. on Sunday, March 12, 2023, at Nicholson Funeral Home in Statesville. His funeral service will be held Monday, March 13, 2023, at 2 p.m. at Horizon Church in Statesville. He will be laid to rest at Iredell Memorial Park in Statesville directly after funeral service.
Nicholson Funeral Home is serving the family.