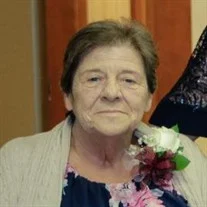 Teela Blankenship , 74,of Statesville, N.C., passed away March 9, 2023. She was born October 26, 1948, to the late Branson Blankenship and Mary Mullins Blankenship. She was a loving mother, grandmother and great grandmother. She took great pride in her home and enjoyed cleaning and keeping it organized. Teela lived for her family; she especially loved to dote on her grandchildren.
She was preceded in death by her parents; her long-time significate other, Charlie Lambert; five sisters; and two grandchildren, Cayden and Riley Blankenship.
Teela is survived by her daughters, Crystal Blankenship, Greta Blankenship and Rebecca Gardiner ( AJ); son, Charlie Blankenship (Kayla); brother, Frank Blankenship (Lori); sister, Arbutis Rose (Gary); 11 grandchildren, Joshua Blankenship, Brenna Blankenship, Kelsey Blankenship, Arleigh Blankenship, Payten Blankenship, Jaikyn Blankenship, Logan Krause, Ian Krause, Avery Blankenship, Natalie Carcamo and 'Lil Bubs" Myers; and five great grandchildren.
A funeral service will be held 6pm Wednesday, March 15, 2023, at Nicholson Funeral Home Chapel with Pastor Frank Blankenship officiating. The family will receive friends one hour prior to the service.
Nicholson Funeral Home is serving the family.