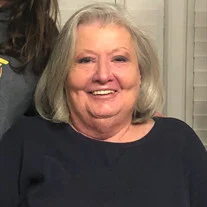 It is with deep sorrow and much love that we mourn the passing of Rosemary Gallagher Hyman of Mooresville, N.C., on Tuesday, March 14, at the age of 71.
Rosemary was born in Philadelphia, Pa., on February 13, 1952, to Peter and Ellen Gallagher. She graduated from West Philadelphia Catholic Girls High School and later went on to earn an associate degree in cosmetology.
She met the love of her life and best friend, Larry Hyman, while he was in Philadelphia visiting family. Before returning home after a two-week trip, he asked Rosemary to marry him. They would marry in 1973, and she would move to Davidson, N.C.
Rosemary worked as a hairdresser in the Mooresville area for over 45 years. She also spent many hours as a volunteer at St. Therese Catholic Church before she became the full-time Liturgy Coordinator in 2006 and retired in December 2022. During her time at the church, she developed strong relationships with parishioners and the community. After the sudden loss of her husband, she started a bereavement group to support anyone who was dealing with the loss of a loved one. She also spent many years wanting to do something to help those in need. Her dream became a reality when she and several others were able to provide a yearly Thanksgiving meal that served thousands in the community.
Rosemary was preceded in death by her husband Larry and both of her parents.
She leaves behind her three children, Megan, Erin, and Joe. She had a strong bond with Erin's husband Peter, and loved telling everyone that he was a chef. She also absolutely adored her two grandchildren, Katy and Grayson. They loved spending time with their Grammy and made memories that will be cherished forever. She also leaves behind her beloved rescue dogs, Luna, Ellie, Moose, and Willie.
The family will receive friends on Sunday, March 19, from 5 to 7 p.m. at Cavin-Cook Funeral Home. A Memorial Mass will be held at 11 a.m. on Monday, March 20, at St. Therese Catholic Church in Mooresville with Rev. Bernard Oleru officiating.
Our mother believed deeply in community and the power of a meal. In lieu of flowers, we ask that donations be sent to a local public school in her memory to help reduce lunch debt for children in need.
Cavin-Cook Funeral Home & Crematory, Mooresville, is serving the Hyman family. Condolences may be made to the family at www.cavin-cook.com.