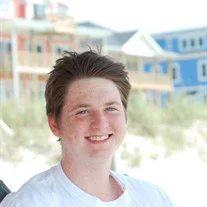 It is with great sadness that we announce the passing of James Robert "Bert" Kozoman Jr. on March 10, 2023. He was 27 years old.
He was preceded in death by his sister, Julia Christine Kozoman, who died August 14, 2016. He will be laid to rest beside her at Glenwood Memorial Park in Mooresville, N.C., during a private family ceremony.
He was survived by his mother, Stephanie Brooks Harpman; step-father, Tim Harpman; father, James Kozoman; his sister, Maria Kozoman, along with her daughter Gianna; and his brother, Samuel Kozoman. The list of extended family and friends that will mourn his passing is beyond description.
Bert was very kind, compassionate, intelligent and insightful. In high school, he worked at the Help Desk fixing computers and received a special award from his Bible teacher for always going above and beyond in his acts of service. He placed fourth in the Skills USA State Competition in 2011 and first place in the Web Page Design Competition in 2012.
After graduating high school, he joined the U.S. Air Force and worked as an Avionics Specialist on the F-22 Raptor. All his friends called him "Kozy." He was quickly promoted to Senior Airman 1st Class and received the FOD Fighter of the Month award in June 2016. After six years of service, he was honorably discharged and went on to pursue his college education at Mitchell Community College. He graduated with high honors on May 9, 2022, and received his Associate in Arts Degree.
There was a common theme that carried throughout Bert's life. For starters, the name Bert means "bright." As a child, he loved looking at lights and became fascinated with lighthouses. He insisted that his Granddaddy take him to see one whenever we vacationed at the beach. When he got older, he collected flashlights. While in the military, he had a lighthouse tattooed on his arm. It wasn't until after his passing that we discovered a paper Bert wrote in 2012. It was a list of the all the things he wanted to change about himself. The very last thing he wrote was "forget your darkness and remember that you are the light." That is good advice for us all.
Bert's light here on earth will be greatly missed but his message will shine brighter than ever. It was an honor to know him.
Cavin-Cook Funeral Home & Mortuary, Mooresville, is serving the family.