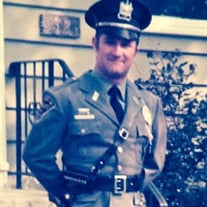 Ross B. English III, 85, of Sandy Springs, Ga., and previously of Mooresville, N.C., passed away on January 21, 2023.
Ross was born September 2, 1937, in Long Branch, N.J., to the late Ross B. English II and Alice M. Stookey English. He started his career in law enforcement in Palisades Park, N.J., and retired as a Lieutenant Detective for Mt. Olive Police Department in Mt. Olive Township, N.J. After his retirement, Ross worked as a Private Investigator for the State of North Carolina, and later opened his own agency, English Investigators. Ross was also a veteran of the U.S. Navy. He enjoyed country music, line dancing, swimming and boating on Lake Norman.
In addition to his parents, he is preceded in death by a daughter, Barbara Jean Roberts; sister, Jeanne Horzempa; and brother, Jerry English.
Ross is survived by his wife of 45 years, Barbara Jones English; son, Michael English of Rehoboth Beach, Del.; daughters, Patricia English-Mirabelli and husband Albert of St. Johns, Fla., and Leslie Santiago and husband Hector of Atlanta, Ga.; and grandchildren, Christopher DiBernard, Greg Roberts, and Theresa Roberts.
A service will be held on Thursday, January 26, at 7:30 p.m. at Cavin-Cook Funeral Home
with Eddie Karriker officiating. Visitation for family and friends will be one hour prior
to the service from 6:30 to 7:30 p.m. Military honors will also be presented during the service.
In lieu of flowers, memorials may be made to UMAR Services, Inc., 5350 77 Center Drive, Suite 201, Charlotte, NC 28217, or via www.umarinfo.com, in honor of Ross's special needs grandson, Christopher.
The English family wants to thank all that have sent their condolences and support during this trying time.
Cavin-Cook Funeral Home and Crematory, Mooresville, is serving the English family. Condolences may be sent to the family at www.cavin-cook.com.