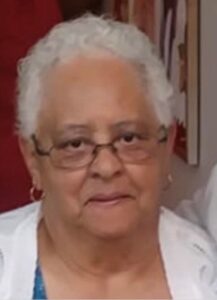 Sallie Ann Morrison, 86, of Statesville, N.C., passed away on Tuesday, October 17, 2023, at her home surrounded by her loving family. She was born on August 31, 1937, in Iredell County, and was the daughter of the late Barney Lee Dalton and Effie Mae Dalton.
Educated in the Iredell County schools, she was a longtime, active member of First Baptist Church in Harmony. Mrs. Morrison worked for many years and retired from Paola Mills.
Being with her family meant everything to her. She also enjoyed working crossword puzzles, word games and watching TV games shows, as well as Carolina Panthers games.
In addition to her parents, she was preceded in death by her husband of nearly 50 years, John Kelly Morrison; as well as her son John R. Morrison; grandsons, Jermaine and Jermon Nichols; brothers Robert Dalton (Doreatha) and Jimmy Lee Dalton (Audrey); and sister Alvis Redmon (Dave).
Those with cherished memories are her sons, Ja-Royed Morrison (Carla), Calvin Morrison (Elizabeth) and Bobby Morrison (Letha); and daughters, Deborah McClelland, Rhonda Turner (Kenneth), Gayle James (Jerry), and Shelia Harris (Kenneth). Also surviving her are her siblings, Dorothy Lackey, Martha Clement, Mary Campbell (Ray), Marcella James (William), Judy Williamson, Johnny Dalton (Estelle), Renard Dalton (Diane) and William Dalton (Brenda). Grandchildren include Kim McClelland (Vivian), Travis James (Lourdes), Taneilla White (Lonnie), Tonya McClelland, Anthony Turner, Kisha Jordan (Stephen), Monikki Stevenson (David), Cherena Morrison, Reeka Morrison, Tasha Linster (Octavious), Keelan "Coot" Steel, Annika Steel, Bobby Morrison, Jr. (Brandy), Mckayla Nichols, Dominique and Rafael Roseboro, Jarette Scott, James Isabelle, and Tia Davis. She is also survived by 18 great-grandchildren, and 3 great-great grandchildren.
Visitation will be on Saturday, October 21, 2023, at First Baptist Church in Harmony, from 2 until 2:30 p.m. The funeral will follow at 2:30 p.m. with Pastor Jeffrey Miller officiating. Burial will follow in the church cemetery.
Shared memories and comforting words can be shared with the family at www.bunchjohnsonfuneralhome.com.
Bunch-Johnson Funeral Home is serving the family.