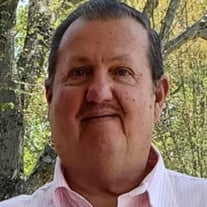 Steven "Steve" Melvin Dellinger, 63, of Mooresville, N.C., passed away on Friday, December 30, 2022. He was born on January 18, 1959, in Catawba County, N.C., to the late Hugh and Ruth Stroud Dellinger.
Steve was a family man who loved his children and grandchildren. He enjoyed visiting the beach and playing computer games, and he was a Miami Dolphins fan.
He is survived by his loving wife, Sherry Bragg Dellinger; children, Nathan Dellinger (Cristina), Paul Luffman (Joyce), and Hope White (Chad); brother, Jeff Dellinger; grandchildren, Austin, Haylee, Hannah, Ashley, Jaden, Cade, Kayleigh, Chloe, and Sydney; great grandchildren, Weston and Karsyn; and several nieces and nephews.
Funeral services will be held at 2 p.m. Friday, January 6, 2023, at Shady Grove Baptist Church, Statesville, N.C., with Rev. Larry Blakley and Rev. Talmadge Hollar officiating. Burial will follow the service in the church cemetery. The family will receive friends prior to the service from 1 to 2 p.m. at the church.
Memorials may be made to Liberty Baptist Church, 2054 W. Maiden Road, Maiden, NC 28650 or Shady Grove Baptist Church, 3327 Amity Hill Road, Statesville, NC 28677.
Cavin-Cook Funeral Home and Crematory, Mooresville, is serving the Dellinger family. Condolences may be sent to the family at www.cavin-cook.com.