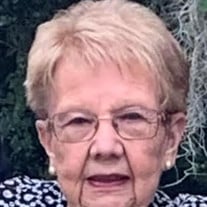 Susan Reid Rhoades Allen, 86, of Winston-Salem, N.C., went to be with her Lord on Wednesday, August 16, 2023, at Autumn Care of Cornelius.
She was born on March 14, 1937, in Forsyth County, N.C., to the late Clarence A. Reid and Susie Hooper Allen. In addition to her parents, she was preceded in death by husband, Bruce Allen, and ex-husband, Robert "Bob" Rhoades.
Mrs. Allen was a retired medical office assistant and a home health sitter. She enjoyed the garden club, cross-stitching, and cross-stitched the rewards for bingo games. Susan helped many people with many different things going on in their lives. She sat with friends every week, drinking coffee, and chatting with them. She loved looking after others. During tax season, she was a receptionist for a tax office. She was very crafty, enjoyed decorating, shopping for clothes with "bling," spending time with her animals, and traveling. She resided at Myrtle Beach for a while. She enjoyed relaxing with a glass of Chardonnay.
Susan is survived by her son, Robert "Alex" Alexander Rhoades and partner Stephanie Sellers (Stephanie took loving care of Susan during her illness); grandchildren, Tyler Rhoades (Sara) and Maddison Forrest (Walker); great -grandchildren, Waylon Forrest, John "Jack" Rhoades, and Bailey Forrest; very close cousin, Sandra Martin, and her furry canine companions, Buster and Zoey.
In lieu of a funeral service, the family kindly requests that condolences be expressed through messages of support and comfort. Please feel free to reach out to the son at his residence during this difficult time.
Cavin-Cook Funeral Home & Crematory, Mooresville, is serving the Allen family. Condolences may be made to the family at www.cavin-cook.com.