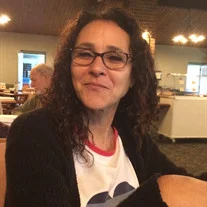 Jocelyn Victoria Yoder Weddington of Troy, N.C., left this earth on Tuesday, August 15, 2023, after a courageous battle with amyloidosis and the resulting heart failure.
Jocelyn was a New Year's baby, born on January 1, 1973. She spent her childhood in Davidson, N.C., as well as several years in France, where she learned fluent French, and a year in Gabon, where she was able to hold a baby gorilla in diapers. On Sunday, although she had difficulty conversing, she remembered that the baby gorilla's name was Gaston. She is a graduate of Eastern Mennonite High School in Harrisonburg, Va. Jocelyn enjoyed most of her adult life in Mooresville and Troutman and found great satisfaction working for Lowe's Home Improvement in a variety of positions, including using her love and knowledge of plants in their garden center. She was so pleased to be able to work remotely at her corporate job with Lowe's, for that allowed her to purchase her dream rural property in Montgomery County in December 2022. Unfortunately, she began her long journey through doctors' offices and hospitals in January and was never able to fully enjoy the birds, the flowers and the trees that graced her home.
Jocelyn adored food of all kinds, picnic sandwiches on mountain trails, quiche and éclairs from French pastry shops, mangoes dripping juice and red finger-sized bananas in Africa, her mom's scalloped potatoes, and fresh green watercress in Haiti, where she was part of a work camp experience. Unfortunately, the amyloidosis destroyed her taste, and though she longed for tasty food over the last months, almost nothing was palatable.
Jocelyn loved anything that was spontaneous, like late night drives to the beach with Abby and Samantha. Or going to thrift stores and looking at little trinkets for hours. She was in love with anything miniature.
She loved creating art, working with her beautiful hands. Like making wire sculptures. She loved to knit and crochet. In recent years she developed the art of making wonderful crocheted blankets with colorful yarns. Her hands were never idle. She would work while watching her favorite nature programs, and she taught her daughters that same practice. She also loved tending her indoor plants, and her thumb was definitely green. She so looked forward to have an extensive garden at her new home, with flowers and fresh tomatoes, but her illness intervened.
Jocelyn could spend many hours alone and enjoy them, but she never met a stranger and loved to chat and talk about anything with family and friends. In the doctors' offices and hospital over the past months, we were amazed at her ability to interact with nurses and doctors and even joke with them. Her nurses loved her. When she left the Intensive Care Unit at the Charlotte hospital in April, she prepared a personal card for each of the nurses and helpers who cared for her, 26 cards in all. And she got a gift card for the wonderful woman who regularly cleaned her room. She always wanted to recognize those people who sometimes are overlooked.
In Jocelyn's presence you always knew that you were loved because she made sure. She was witty and quippy and hilarious. She could respond so quickly to comments, and if you wondered how or why, she would say that she didn't like to think before she spoke because she wanted to be surprised. And if you wondered why she talked so loud, she said it was because she didn't want to have to repeat herself! If you also spoke the language of sarcasm like her, you were friends for life! Breakfast buffets and lazy PJ days were two of her favorite things, especially if they were with her girls. Rarely do you meet a person who is so vibrant, so energetic, so passionate and yet so caring and compassionate for others and sensitive to their needs.
Jocelyn was preceded in death by her mother, Suzanne Frey Yoder.
She is survived by her father, Lauren Yoder of Black Mountain, N.C., and his spouse Sydney; by her brother, Reinald Yoder (spouse Christine) of Decatur, Ga., and by her two daughters, Samantha Allen (spouse Bradley) of Conover, N.C., and Abby Weddington of Mooresville, N.C., who is now in boot camp at Parris Island. She also is survived by her four grandchildren, Raegan Elizabeth Bennett, Makaela Jade Bennett, Vance Elijah Allen and Braeley Elisia Allen.
In lieu of flowers, but in loving memory and in honor of Jocelyn, she invites contributions to the Hospitality House of Charlotte (hospitalityhouseofcharlotte.org), for they make it possible for families who live at a distance to stay near a loved one who is undergoing medical treatment.
A memorial service to celebrate Jocelyn's life will be held on Saturday, August 19, at the Fallstown Baptist Church in Troutman, N.C. Guests are invited to wear purple.
Cavin-Cook Funeral Home, Mooresville, is serving the family of Ms. Weddington. Condolences may be made to the family at www.cavin-cook.com.