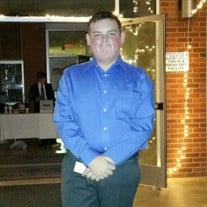 Taylor Reece Hardiman, 22, of Mooresville, N.C., passed away on Tuesday, June 27, 2023.
Taylor was born on February 19, 2001, to Daniel Robert Hardiman and Melissa Plumblee Hardiman. He was a 2019 graduate of Mooresville High School. He was a member of Southside Baptist Church, Mooresville, a member of the N.C. Transportation Museum, NC Firearms Coalition, an active member of Qubetchistan and an avid Star Wars Fan. Taylor was the life of every party, quick-witted with great jokes, and he loved to laugh and make others laugh.
He was preceded in death by his maternal grandfather, Marion "Corkey" Plumblee; and maternal grandmother; Anita Dale Plumblee.
Those left to cherish his memory include his mother, Melissa "Missy Plumblee Hardiman; father, Dan Hardiman; brothers, Daniel and Nick; grandparents, Anne Marie and Gerald Hardiman; grandfather, John Martin; uncles, Jerry Hardiman and Ricky Thompson; aunts, Jeanine (Jeff) Chambers, and Elizabeth "Libby" Bolch; and pets, Raschal, Lilly, and Scout; along with many other extended family members and friends.
A service to celebrate Taylor's life will be held on Saturday, July 1, 2023, at 2 p.m. at Southside Baptist Church, Mooresville, with the Rev. Mark Ball officiating.
The family will receive friends following the service at Southside Baptist Church.
In lieu of flowers memorials may be made to the N.C. Transportation Museum, 1 Samuel Spencer Drive, Spencer, NC 28159.
Cavin-Cook Funeral Home, Mooresville is proudly serving the Hardiman family. Condolences may be made to the family at www.cavin-cook.com.