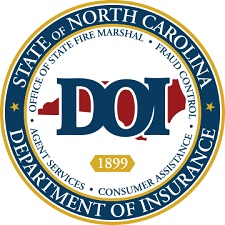 Special to Iredell Free News
RALEIGH — As the Fourth of July holiday approaches, Insurance Commissioner Mike Causey is urging North Carolinians to celebrate safely by following a few simple summer safety steps.
Fireworks, grilling out and water activities are traditional parts of America's Independence Day celebrations, but all have inherent risks that could ultimately end in serious injury or death.
"The Fourth of July is a fantastic holiday to celebrate our nation's independence with family and friends, but it is important to make safety a priority," Causey said. "Sadly, many people are injured or killed on this holiday every year because of misusing fireworks, unsafe grilling techniques or boating and drowning accidents."
GRILLING
July is the peak month for grill fires. According to the National Fire Protection Association, an average of 22,155 patients per year went to emergency rooms because of injuries involving grills between 2017-2021.
Seven out of 10 adults in the U.S. have a grill or smoker.
To prevent grilling fires and keep residents safe while cooking outdoors, Causey recommends the following tips:
• Propane and charcoal grills should only be used outdoors.
• The grill should be placed far away from the home and deck railings.
• Keep children and pets at least 10 feet away from the grill area.
• Never leave your grill unattended and always open the gas grill lid before lighting it.
• If using starter fluid, use only charcoal starter fluid. Never add charcoal fluid or any other flammable liquids to the fire. Keep charcoal fluid out of the reach of children.
• When you are finished grilling, let the coals completely cool before disposing in a metal container.
• If you smell gas while cooking, immediately get away from the grill and call the fire department. Do not move the grill.
FIREWORKS
Injuries with fireworks have increased by 25 percent in the United States over the last 15 years and most of those accidents occur on the Fourth of July. According to the Consumer Product Safety Commission, at least nine people died in 2022 and an estimated 11,500 were injured in incidents involving fireworks.
A handheld sparkler can burn at a temperature of 1,200 degrees Fahrenheit. To put that into perspective, water boils at 212 degrees, a cake bakes at 350 degrees and wood burns at 575 degrees.
The best way to protect your family is to not use any fireworks at home. Commissioner Causey urges all North Carolinians to attend public fireworks displays performed by trained professionals licensed by the state. After the display, do not pick up or touch leftover fireworks because they may still be active.
If a child is injured by fireworks, immediately go to a doctor or hospital. If an eye injury occurs, don't allow your child to touch or rub it, as this may cause even more damage.
BOATING/WATER SAFETY
July 4th is one of the most popular times of the year for water activities. In 2020, the most recent year in which statistics are available, there were 187 boating accidents in North Carolina resulting in 113 injuries and 27 deaths, according to the N.C. Wildlife Resources Commission. Of the 113 people injured, 15 were affected by alcohol use.
Drowning is the leading cause of death for children ages 1-4 in the United States. Some 4,000 children drown every year; that is an average of 11 drowning deaths per day.
To prevent a boating or other water sport accident, Causey encourages everyone in North Carolina to remember these important safety reminders:
• Wear life jackets: Adults and children should always wear a life jacket approved by the U.S. Coast Guard while on boats or jet skis, around open bodies of water or when participating in other water sports. Make sure the life jacket fits snugly.
• Watch kids when they are in or around water, without being distracted.
• Don't drink and boat: A large portion of boating accidents each year involve alcohol consumption. It is illegal to operate a boat while intoxicated.
• Learn CPR: We know you have a million things to do, but learning CPR should be at the top of the list. Hospitals, fire departments and recreation departments offer CPR training.
• Use an engine cut-off device: An engine cut-off device is a proven safety device to stop the boat or jet ski's engine should the operator unexpectedly fall overboard.