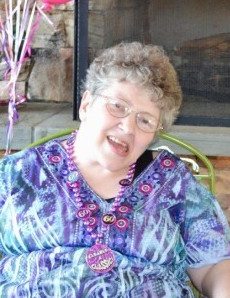 Teresa Dean Chappell, 70, better known as Teesee to her family, joined her parents in her heavenly home on October 18, 2023, at Abernathy Laurels in Newton, N.C.
Teresa's seventy years of life is one to be respected and cherished.
Teresa was born on June 23, 1953, to Edward Thorpe and Helen Irene Darr Chappell in Statesville, N.C. She lived a joyful, young life until an unexpected accident became life alternating at the age of five. This accident brought different challenges for Teresa; however, it never suppressed her spirit for living. She spent countless days as a young child in hospitals, in rehabilitation facilities simply learning a new way of life. She mastered many obstacles before her such as learning how to walk, writing her name and mastering crafts. This joyful, bulldog spirit within her lead her to a ripe age of 70, which beat all medical odds. She was cherished by so many medical staff she encountered throughout her lengthy life. These loving individuals became very dear to her and her family over the many years. All who crossed paths with Teresa would agree she exemplified happiness daily while often being curious about others' well-being. She would often ask one "how you are doing?" followed with a slight grin and sparkle in her eye. In her younger years, she needed to know "would you like to go to the moon?" followed by a belly laugh. This most always created laughter amongst those she encountered.
She loved the color red. Her wardrobe choice was always something red, but most often you could find her sporting red shoes. And even better is they were sparkly, and she would light up when asked about her fun shoes!
Teresa spent most of her adult life until the age of 55 cared for by her parents and extended family who gave her exceptional care. She was also well cared for by her late Aunt Hazel Davis, who worked tirelessly on the legal side of securing exceptional care for Teresa to ensure she would continue to have continuous love and care throughout her life.
During her younger years, she would frequent different special workshops that would allow her to complete different tasks with her hands. Her specialty was making potholders, which often were gifted to those she loved. In her free time, she loved watching game shows.
In the most recent years, she has been a bright light at Abernathy Laurels in Newton, N.C. She loved to sit in the hallway to greet others and to interact with her friends. The family would like to give their deepest gratitude and thanks to the staff at Abernathy Laurels for loving Teresa for the past 12 years.
The surviving family for Teresa includes her brother, Rick Chappell of Florida; a sister, Nadine Rogers of Troutman, N.C., and husband Terry. Additional family who also cherish her memory are her nieces and nephews, Chris Chappell, wife Amanda of Hickory, N.C., Tiffany Freeman and husband Chuck Freeman of Florida, Alan Rogers of Statesville, N.C., and Janet Roger Cook of Charlotte, N.C.
The best reflection of Teresa's life could be summed up in this quote: "Let no one come to you without leaving better and happier." (Mother Teresa)
Those who have crossed paths with Teresa would agree we are all better because of Teresa's blessing in our life. The happiness she gave others has forever put a footprint on those she encountered.
On Monday, October 23, a visitation for Teresa will be held at Reavis Funeral Home of Statesville beginning at 11 a.m. Following visitation at 12:30 p.m., a graveside funeral service will be held at St. Martin's Church Cemetery.
In lieu of flowers, please donate to Abernathy Laurels – Activities, 102 Leonard Avenue Newton, NC 28658.
The staff at Reavis Funeral Home of Statesville is honored to serve the family.