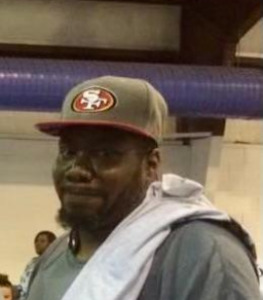 Mr. Thurston Jermaine Heaggans, 48, was born on March 21, 1974, to the late Wilford Jerome Heaggans and Elder Evelyn Louise Sherrill Heaggans. He entered into eternal life on Friday, March 10, 2023, at West Village Post Acute in Greenville, S.C..
Thurston attended South Iredell High School, where he graduated in 1992. He was active in the ROTC, played the drums in the band, was on the track team, sang in the choir, and played football. He was a favorite fan of the San Francisco 49ers.
Thurston leaves to cherish the memories of his life three brothers, Thurmond (Lishana) Jeron Heaggans of Greenville, S.C., Pastor Jay (Elder Kashika) of Niles, Mich., and Detrick Dontae' Heaggans of Kannapolis; uncles, James (Barbara) Houpe, Joe Lewis Summer, Derrick Heaggans, Leonard (Mary) Heaggans, and Rufus Heaggans Jr. (Annette); aunts, Mary Lou Thompson (Ned), Eva Daniels (John), Grace Summers, Martha Anderson, Tawanna Heaggans, Lisa (Curtis) Pearsons, and Sylvia (Zollie) Young; nephews, Jasmine Heaggans, Emanuel Heaggans Sr., Cayden Heaggans, Jalen Sharpe, William Yount, and Jaylen Heaggans; nieces, Jasmine Heaggans, Imani Heaggans, Deja Sharpe, Raelyne Heaggans, Kiana Powers (Andrew), and Serenity Heaggans; two great nephews, Cortz Powers, Emmanuel Heaggans, and Jayce Sharpe; two great nieces, Kiora Powers and Kendlynn Powers; godchildren, Ken Barber and Taylor Barber; special friends, Elmer (Malenda) Barber, Allen Barringer, Dawn Collins, Kinston Griffin, and Perry Gibbs; and a host of nephews, nieces, cousins, other relatives and friends.
A Celebration of Life will be held at Rutledge and Bigham Mortuary, on Friday, March 17, 2023, at 11:30 a.m. with Bishop John Carr officiating. The family will receive friends from 11 to 11:30 a.m.
Visit the book of memories for Thurston Jermaine Heaggans at www.rutledgeandbigham.com.
Rutledge and Bigham Funeral Home is serving the Heaggans family.