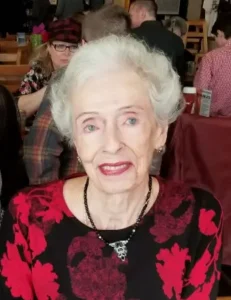 Virginia Brett Garland passed away peacefully on September 11, 2023, in Raleigh, N.C.
Virginia was born on June 30, 1936, in Chicago, Ill., to the late Harry Carlton "Bill" Brett and Marion Helen Osbourn Brett.
Virginia lived a life marked by devotion to her family, passion for education and a love for the Lord. In 1957, she became a proud graduate of Mary Washington College. The following year she married her beloved husband, Mr. Paul Carter Garland on February 22, 1958. Virginia was an elementary school teacher for 38 years, teaching at St John's Lutheran Kindergarten, Brookwood Elementary School and Troutman Elementary School. Beyond her professional life, Virginia was a devoted mother to her two sons, David Brett Garland and Charles Douglas Garland. She instilled in them her values, shaping them into the men they are today. Virginia's love for gardening was only matched by her passion for crafts. Her garden was a testament to her nurturing spirit and her vibrant personality. Virginia will be remembered as a loving mother, a dedicated teacher, and a woman of unwavering faith. Her legacy will live on in the hearts of those she loved and the students she inspired.
Virginia was preceded in death by her parents, brother, Harry Carlton Brett Jr., and sister, Elaine Brett Goodin.
She is survived by her sons, David Brett Garland (Cheryl) of Stem, N.C., and Charles Douglas "Doug" Garland ( Mitzie), of Raleigh, N.C.; grandchildren, David Brett Garland Jr., Robert Carter Garland, Paul Thomas Garland, Jenna Callahan and William Ray Webley Jr.; and great grandchildren, Opal Rose Garland-Wikins, Miller Anne Callahan and Hallie Keirnan Callahan
Virginia Garland will lie-in-state at Nicholson Funeral Home from 9 a.m. until 12 noon on Saturday, September 16, 2023.
A funeral service will be held at 1 p.m. Saturday, September 16, 2023, at Broad Street United Methodist Church with Rev. Sonny Reavis officiating. Burial to follow at Oakwood Cemetery.
In lieu of flowers, the family requests contributions be made to Broad Street United Methodist Church or the American Cancer Society.
Nicholson Funeral Home is serving the family.