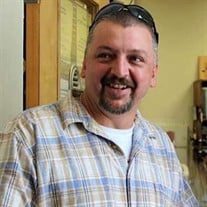 Wes Windham, 52, of Statesville, N.C., passed away suddenly on December 27, 2022, at his residence. He was born on August 23, 1970, in Plumas County, Calif. He spent his childhood in Burney, Cali.
Wes served his country proudly in the United States Marine Corps for four years. He worked as a diesel mechanic for over twenty years, a job he thoroughly enjoyed. He was an avid outdoorsman with a great passion for fishing.
Wes was preceded in death by his mother, Marty Mariani; and his grandparents, Raymond Crawford and Vera Chronister
Wes is survived by his wife, Misty Gillman Windham of Statesville, N.C. He is also survived by his furry companions, Lil Boy, Sugar Baby, Snitch, Nitro, and Pooh Bear, whom he adored.
In keeping with Wes's wishes, his body will be cremated.
A Celebration of Life with Military Honors will be held at 2 p.m. on Saturday, January 28, 2023, in the Chapel of Nicholson Funeral Home with Heather Besoiu, Funeral Celebrant, officiating.
To view Wes' Celebration of Life LIVE, visit
https://view.oneroomstreaming.com/index.php?data=MTY3MzM5MTI3OTIyOTU2MSZvbmVyb29tLWFkbWluJmNvcHlfbGluaw==
Nicholson Funeral Home has the honor of serving the family.