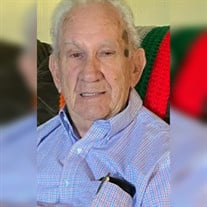 William Delane Waller, 88, of Cleveland, N.C., passed away on November 11, 2023, at S. Mitchell Mack Hospice House in Mooresville, N.C.
He was born May 4, 1935, in Rowan County, to the late Jacob Thomas Waller and Beulah Cline Waller. In addition to his parents, he was preceded in death by brothers, Earl and George Waller, and sisters, Virginia Seamon and Mary Sue Arthur.
Delane proudly served his country in the U.S. Army. He enjoyed gardening, spending time at the beach, and watching TV. His greatest joy was spending time with his family and friends. He enjoyed working at Burlington Industries for over 45 years before his retirement. He attended Third Creek Presbyterian Church.
Delane is survived by his loving wife of 56 years, Lavonne Bollinger Waller; children, Richard Delane Waller and Robert Mason Waller, and several nieces, nephews, and cousins.
A graveside service will be held on Saturday, November 18, at 2 p.m. in Cleveland Town Cemetery with Pastor Larry Bost officiating.
Cavin-Cook Funeral Home and Crematory, Mooresville, is serving the Waller family. Condolences may be sent to the family at www.cavin-cook.com.