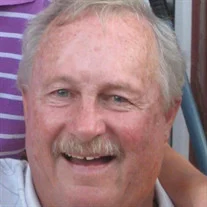 William Edgar Russell, 80, passed away Friday, March 10, 2023. Mr. Russell was born in Cleveland, N.C.., on February 25, 1943, to the late Mack Russell and Mary Justus Russell.
William was an accomplished welder. He was a long-time member of Christ Episcopal Church in Cleveland, where he served as a vestry member. He was a faithful member of Kennedy-Hall American Legion, where he enjoyed many games of pool. William is also a former member of the Cleveland Jaycees and served on the town Board of Commissioners for several years. He liked 1950s Chevys and Cadillacs. He was also huge NASCAR fan and loved watching the races. During his last years, he was busy raising beef cattle and working on restoring old cars.
He is survived by his long-time significate other, Claudia Register; Claudia's daughter, Hilary Burton (Drew); son, William Russell " Billy" (Darlene); daughters, Hope Russell Oliphant (Steve) and Faith Russell Brickman (Travis); sister, Sue Russell Dixon; and seven grandchildren.
He was preceded in death by his parents; his brother, Don Russell; and sister, Catherine.
Nicholson Funeral Home is serving the family.