BY MIKE FUHRMAN
Mount Mourne IB School students weren't expecting media coverage or a reward for their good deeds.
They were excited nonetheless as they dropped off 80 gift baskets at N.B. Mills Elementary School on Friday afternoon. The baskets will help children in less fortunate homes enjoy a delicious Thanksgiving dinner.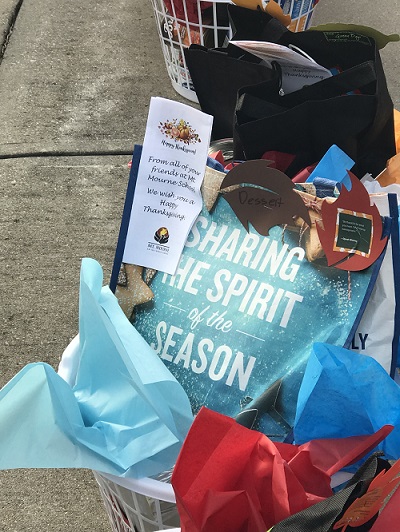 The IB curriculum helps students understand that they are part of a global community, that they share a common destiny with people of different cultures and socio-economic backgrounds, and that they have an opportunity to make the world better through service to others.
Their parents are reinforcing those valuable lessons as well.
Last year the Mount Mourne PTSO decided to adopt N.B. Mills, where 98 percent of the students qualify for free or reduced lunch. The organization provided gift baskets for 10 families last Thanksgiving.
Their goal this year was to provide 50 baskets. But the whole school got behind the project — with students donating hundreds of canned goods and trimmings to fill the baskets. Publix got behind the project as well; the result was 80 overstuffed baskets of love and goodness that filled an entire storage room.
The baskets — and more than $400 contributed by the Mount Mourne families — will be presented to N.B. Mills families before Thanksgiving. This is an incredible gesture that embodies the true reason for the season. May we all learn from this example.
This was the best thing I saw all week!
Mike Fuhrman is editor of Iredell Free News. Email him at iredellfreenews@gmail.com.