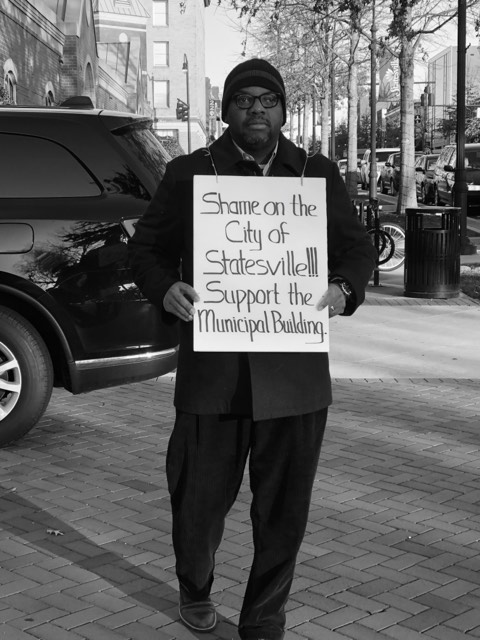 BY MIKE FUHRMAN
Brian Summers honored the legacy of Martin Luther King Jr. in a most fitting fashion on a chilly Monday morning.
As community residents and elected officials left the MLK Community Breakfast at the Statesville Civic Center, they encountered Summers protesting the policies and priorities of a city government that he contends have rendered the socio-economically disadvantaged residents of South Statesville poor and powerless.
While downtown has new businesses and a new vibrancy because of the city's investment in new infrastructure and a new streetscape, South Statesville remains "barren with nothing," Summers said. "There's no hope."
A Statesville native who has spent his career working in the U.S. Capitol Building for Republican congressmen and senators, in the White House, and traveling the country working for big-time GOP candidates, Summers said he was motivated to take a stand on Monday because of the City Council's decision to scale back plans for a new municipal services building in South Statesville.
After discarding plans to house Statesville firefighters and Iredell County EMS personnel in the facility along with the Statesville Police Department, the council is now considering two options: build a new SPD headquarters on that city-owned property or scrap that site altogether.
That project, Summers and other proponents argue, had the potential to help revitalize a part of the city that lacks a grocery store, health-care facilities, access to reliable public transportation and good jobs. Hopes for new shops, medical clinics, and new affordable housing in the community hinge on public and private investment.
One $11 million municipal services building would not have triggered all of that, but it would have been something. It would have been a start. It would have given residents a reason to hope for something better.
Summers said he waited until after the MLK event to protest because he did not want to be a disruptive force. The MLK Celebration Committee put hours into planning the event and the community looks forward to the breakfast every year. He did not want to take away from that.
Summers grew up in public housing on Winona Street, and attended N.B. Mills and D. Matt Thompson before graduating from Statesville High School in 1989. He said he learned to think outside of the box and challenge what others take as gospel because of a couple of great teachers, Ben Stimson and Ed McClelland.
Raised by a strong single mom and heavily influenced by his grandparents, Summers remains cognizant that his actions even today reflect on his family. He dressed for the protest like he does for work in the nation's capital because he wanted his grandmother to be proud of the man he has become and because he fights for what he believes is right.
On Monday, that meant calling attention to what he sees is a City Council and mayor who are not working for the benefit of all of the city's residents.
There are people who have owned their homes in South Statesville and paid city taxes on them for decades. What, Summers asks, are those folks getting for their city tax dollars?
Beyond the recent addition of a splash pad at the Bentley Community Center and now the promise of a linear park, it's hard to point to anything tangible the city has done in that part of the city in the past 15 years.
"When the city collects taxes, it doesn't discriminate on where they come from. City resources should be distributed equally and fairly," Summers wrote in a Facebook post on Monday that ended with:
#ShameStatesville #BeTrue2DrKing
The current council appears to be falling right in line with the councils that have gone before them. If they scrap the municipal services building and undo the one positive thing that the previous council with the mayor's support did for South Statesville last fall, it will speak volumes about this group of elected officials.
There's only one way to begin to change this course, Summers said.
"We've got to have good people to stand up and push back," he explained.
Summers did his part Monday morning. His grandmother – and Dr. King – would have been proud of the stand he took and how he took it. But it will take more than the actions of one man fighting the good fight to change the course of this city.
The City Council meets on the first and third Mondays of each month at 7 p.m. in the Council Chambers of the City Hall building, located at 227 S. Center Street.
Will anyone stand with Brian Summers?
Mike Fuhrman is editor of Iredell Free News. Email him at iredellfreenews@gmail.com.