BY DARREN CAMPBELL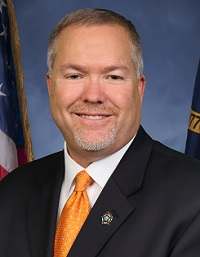 Interaction with law enforcement can have a lasting impression on a young person. Through our many youth outreach programs, my goal is to make this interaction a positive experience. The youth of today are the leaders of tomorrow. I firmly believe we should continually invest our time in our youth. This was the driving philosophy when we developed our numerous programs such as the teen academy, mobile classroom, and Sheriff's Youth Athletic Volleyball League.
For the past five years, the Iredell County Sheriff's Office has been fortunate to apply for and receive grants through the Bureau of Justice Assistance to fund our Youth Athletic Volleyball League. This is an excellent way for our youth to be engaged with law enforcement and also provides an opportunity for family involvement. Community engagement remains the cornerstone of effective law enforcement. Whether it be a Community Watch Program, one of our Citizen or Teen Academies, our Mobile Classroom or one of our many other community programs, we as a sheriff's office want to be actively engaged as an agency within our community.
The Sheriff's Youth Athletic Volleyball League is one of our most popular initiatives, with over 1,000 youth having participated in the past five years. Youth, both girls and boys, from ages 8-16 are invited to play volleyball and be mentored by deputies, staff and community leaders.
Studies have shown that children who have positive attitudes about themselves, and have positive role models, receive better grades in school, have lower rates of participation in at-risk behaviors, and are less susceptible to be involved in bullying type behavior. If we can reach our youth early in their lives, we can set them on the path to becoming productive adults, which in turn leads to a brighter future for them and our county.
Our volunteer coaches are instructed to promote good sportsmanship, respect, good manners, and anti-bullying. Youth are encouraged to have fun while competing at a high level. This program also helps prevent youth crime by providing a structured environment supervised by law enforcement officers and community members. I believe this will promote respect for law enforcement, educate our youth, and help foster positive self-esteem.
This program is free for participants and limited to residents of Iredell County. Registration opens in mid-January each year and is closed out in late February. In order to ensure our league doesn't interfere with regular school volleyball seasons, practices start in March and games begin in April. The games are held on Saturday mornings at Statesville High School.
Due to the popularity of this program, we have widened the age ranges for participants from 8 years old to 16 years old. In order to be fair, teams are formed based on ages and the area of the county where the player resides.
If your child is interested, please go to our website, www.iredellsheriff.com, to register him or her. Click on the "How Do I" tab, and click on Sheriff's Athletic League. You will be directed to print off the ICSAL Medical Release form. This form must be printed and filled out before any youth will be allowed to start practices.
Once you have downloaded the Medical Release, click on the "Iredell County Sheriff's Office Youth Athletic League Application and fill out the information online. Once the registration is closed out in late February, you will receive an email with additional information about team practice schedules along with games dates and times.
This program is very important to our youth and we couldn't do it without the help of our community. We are also taking applications for volunteers who are interested in this opportunity to invest in our youth as a mentor and coach. If you or anyone you know is interested in coaching or assisting, please let us know by calling me at 704-878-3180 or email me at decampbell@co.iredell.nc.us.
If you have additional questions about the Iredell Sheriff's Youth Athletic League Volleyball Program or have any other law enforcement related questions, please feel free to contact me at 704-878-3180 or email me at decampbell@co.iredell.nc.us.
Darren Campbell is the sheriff of Iredell County.