BY PAUL COOK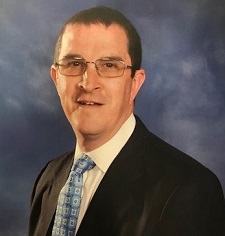 Over the last six months, as I have served as the United Way of Iredell County's 2019-20 Campaign chairman, I've had the opportunity to connect with so many generous individuals and businesses across our community and ask a simple question: "Why do you give?"
Is it a specific cause that touches your heart, or a medical or mental health concern that impacted your family? Did knowing a child who grew and flourished under the guidance of an afterschool or summer program move you to give? Or is it your concern that a senior or disabled neighbor might need a hand, or a friend who recently lost her job and may need food or clothing? Is it caring about climate and its impact on our four-legged friends or maybe the environment or a veteran who needs a helping hand?
As we enter the last few days of our Love United Iredell initiative and cap off the campaign season, ask yourself the question Why Do I Give?
For some inspiration, visit http://bit.ly/LUIredell and check out the 27 nonprofit organizations that have registered a project in our first year of this new 14-day giving campaign that ends on Monday, February 24. Each one has a mission to improve our community in some impactful and meaningful manner. Their stories are shared on the website so you can learn more about the organization and its impact right here in Iredell County.
There are several ways to contribute and share their story right on the website. But you are also welcome to write a check if you prefer. Checks can be mailed to United Way of Iredell County, P.O. Box 1312, Statesville NC 28687. Please make sure to note the project you'd like your gift to support on the memo line. Any questions, don't hesitate to call our staff at 704-872-3000.
Know that a portion of your dollars will be matched from our endowment as well.
If you have never participated, you are invited to join us today in making these projects possible. Every gift makes a difference, no matter its size. We know how $10 or $20, when pooled with other donations, grows exponentially.
Businesses that are boosting the excitement and have joined us as our sponsors for this initial Love United Iredell initiative include GL Wilson Building Company and McDonald's of Iredell County.
The newspaper, radio, and online advertising you see and hear for Love United Iredell creating awareness, support for the nonprofit community and encouraging donations is all made possible through the kindness and generosity of the local media community including, Iredell Free News, Statesville Record & Landmark, WSIC and WAME radio.
Philanthropy is a powerful force for change. It brings people together, and allows us to bridge our differences while helping others. So, as we put the final touches on our first ever Love United Iredell initiative and the 2019-20 United Way Annual Campaign, we challenge you to make a difference here in Iredell County and ask you to consider Why I Give?
To participate or find out more about the 27 projects please be sure to visit http://bit.ly/LUIredell today! Every dollar raised will go towards changing a life in Iredell County.
Paul Cook is the 2019-20 campaign chairman for the United Way of Iredell County.