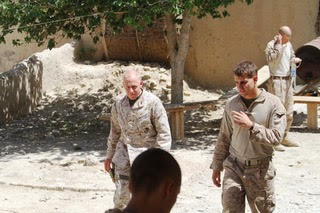 BY M.G. SPIESE
We enter this weekend, as a nation, recognizing the Memorial Day holiday. The significance of the day is generally overlooked — honoring members of the Armed Forces who have given their lives in the line of duty — as Memorial Day has become the "official" start of summer. In a way, this speaks to what has been achieved through those sacrifices — our ability to enjoy (the operative word) our freedom free of fear or threat of danger to our nation and our way of life.
At the same time, taking those sacrifices for granted overlooks the true cost of preserving our freedom. It has not been long since our wonderful national cemeteries were regularly hosting the burials of service members killed in Iraq, Afghanistan, and a few other places around the globe. As those memories fade, the summer of 2021 presents America with a full plate of concerns for citizens of this exceptional nation.
Our adversaries grow in strength and are rapidly adapting to counter and offset our military strengths, whether Iran, China, Russia, and the ever-changing world of vicious terror organizations committed to our harm. All this is happening at a time when we have moved past debate of policies to the reality of effects of an economy and businesses being shut down, students losing a precious year of education from closed schools, the nationwide damage of the pandemic to Americans, the massive nationwide damage from protests that turned into destructive riots across the country, and the unrelenting rise of murder and violent crime following in that wake, all of which is terrible, have had on our nation. Most troubling are children being killed for no reason while simply enjoying an outdoor trampoline or sitting on their front porch.
The summer of 2021 begins with growing tensions with adversaries outside of the United States, and the significant decline in the fundamentals and essentials of our lives, highlighted by the decline of personal safety and the protection of citizens by elected and appointed officials across our country. These are not debatable; they are daily visible and measurable, and seemingly coming closer to every American, regardless of where they live — save maybe those living in secure compounds and guarded and gated communities.
History informs the decline of great powers has at its heart the decay from within of what made them great. This Memorial Day, it is not unreasonable to reflect on the sacrifices of those who have given the "last full measure" in the face of the challenges before us today. Those sacrifices were made on behalf of an "Exceptional Nation" to protect is citizens and preserve its national way of life. It was a sacrifice of unity, joining their lives to our nation.
To honor those who have given their lives for the United States, a recommitment to the operative word in our name — "United" — must be a priority. All that has been earned and preserved by those we honor on Memorial Day is at risk if we, as a people, choose to not do so.
M.G. Spiese is a retired U.S. Marine Corps major general. He lives in Mooresville.