BY DAN GITRO
Here's a recap of the contract controversy that had volunteer fire departments across Iredell County concerned — and justifiably so — about losing their primary source of funding: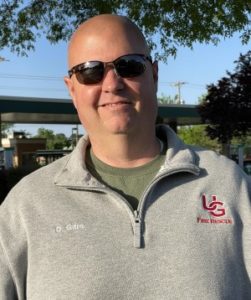 ♦ April 20: Fire Services & Emergency Management Director Kent Greene sends an email informing all volunteer fire chiefs in the county that a new contract will be released soon. The email explains that the service agreement between the county and volunteer departments expires on June 30 at midnight.
♦ May 4: The new fire contract is sent to the fire chiefs. It contains new terms that multiple departments take issue with. A list of nearly 25 items are quickly highlighted as "Non-Starters" by multiple chiefs. Cool Springs Volunteer Fire Department Chief Andy Webster, who heads the Iredell County Chiefs Association, is asked by the other volunteer departments to serve as the liaison between county officials and the fire departments in contract discussions.
♦ July 1: The fire contract ends, according to county officials. Greene sends an email to all chiefs asking for progress on signing the "new" contract. After receiving this email, several fire chiefs contact Iredell Firewire to express their displeasure with Greene's email. Many chiefs believe that county funding will be cut if contracts are not signed by the July 4th holiday. Greene then sends a follow-up email at the request of County Commissioner Gene Houpe after department chiefs express their disdain with elected county commissioners. Greene's email explains that he was "not suggesting contracts had to be signed today or funding would be cut off." After this email was sent, things cooled off for a bit.
♦ July 13: Iredell Firewire obtains emails from County Manager Beth Mull asking where each department stands on the new contract. An internal spreadsheet included in the email shows only two fire departments out of 19 (Stony Point and Shepherds) have signed the contract. According to several sources, the Stony Point Volunteer Fire Department felt forced into signing the contract in order to receive funding needed to pay for a new truck. Meanwhile, fire department personnel obtain a copy of the Iredell County Budget for 2022-2023. Page 7, Section 17 reads: "The County Finance Officer shall not release funds to departments unless an executed contract is on file for each fire department."
♦ July 14: Firefighters publicly state that they have been defunded by the county. Every department — except Stony Point and Shepherds — believes they have proof that funding has been cut off. Social media posts by firefighters throughout Iredell County are shared thousands of times. Iredell Firewire fields messages from concerned citizens, and elected officials report they are getting bombarded with complaints from taxpayers and firefighters. Concerned citizens even sent checks to fire departments so they can continue to respond to calls. Union Grove Fire Rescue received a $2,000 check from one concerned citizen. While on vacation, Mull sends an email calling out the Union Grove Fire Department stating, "there is a stir that has kicked up about the fire contracts and the FACT that the fire departments have been defunded. From what I can gather members of the Union Grove Fire Department have called a few individuals to see if this is true."
♦ July 18: Union Grove Fire Chief Nolan Shumaker notifies Deputy County Manager Susan Robertson that, based on his reading, the contract has not expired. He also informs her of an N.C. General Statute that states a volunteer fire department must be under contract. If inspections take place by OSFM while a department is not under contract, that department's insurance rating (ISO) would be removed, costing the county millions of dollars.
♦ July 19: The county manager sends an email to all fire chiefs explaining that she and others made a mistake. She explains that the fire contract doesn't expire until June 30, 2023. In part, the email reads:
"We received a call yesterday from Chief Shumaker with the Union Grove Fire Department. He was questioning if the current fire contract had expired or if it was still in force. Our understanding was that the contract had expired and we had finished our first one-year extension but after reviewing the contract terms, while the language is not very clear, we believe that the current contract is still in force and does not expire until June 30, 2023. I have attached one of the original fire contracts from 2017 that includes the term language on page 14 for your reference. I notified the Board this morning of the error and wanted to make sure that each of you is aware that the current contract is still in force until June 30, 2023. This gives us ample time to continue the contract discussions so we can finalize the contract for renewal on July 1, 2023."
It seems convenient that this email was sent just hours before a Board of County Commissioners meeting in which there was a public comment period. The county manager surely would have faced criticism for the administration's handling of this issue.
So, at the end of the day, who can the fire departments trust? The administration in this county was proven to be wrong by a volunteer fire chief. The question is why didn't the county manager, her staff, the county attorney, or others in Emergency Services at the county level listen to any of the other fire chiefs earlier? Was this a pre-planned attempt to force a new contract down the fire departments' throats just like the Active 911 debacle weeks earlier?
We may never know the answers to these questions, but one thing for sure is that the leadership at the 19 volunteer fire departments will proceed with extreme caution when dealing with county officials regarding the upcoming contract.
Dan Gitro is the founder of Iredell Firewire.