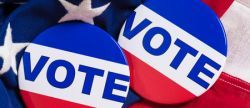 BY MIKE FUHRMAN
In most elections, you can classify candidates for elected office into two distinct groups — the known and the unknown.
The first group is typically made up of men and women who have previously served in elected office or worked professionally in a position involving public service. Some of these candidates have distinguished themselves with their voting record or constituent service, while others have struggled to stay in their lane and focus on the job they were elected to do. Whether good or bad, these candidates are a known commodity.
The second group contains candidates who are running for office because they want to make a difference in their community, but it can be difficult to know where they stand on important issues or how they will juggle the day-to-day responsibilities of their elected office with their personal and professional obligations.
The 2022 primary and municipal election in Iredell County is unique because of the presence of a third group of candidates. These folks, who have spent the past two years working to erode voters' confidence in public education and local governance, are a special subset of the unknowns. Members of this group — and individuals who support and enable them — have pressured the Iredell-Statesville Schools Board of Education to ignore the advice of public health experts during a global pandemic. They have aligned themselves with individuals who intimidated peaceful social justice protesters in Statesville, disrupted school board meetings and tried to force school officials to remove books they deem offensive from school libraries. One of their supporters falsely accused a well-regarded middle school principal of keeping pornographic literature on the shelves of his school's library. They have tied up local government and school district staff with time-consuming public records requests just because they can. They've supported a baseless lawsuit against the I-SS Boards and made nonsensical claims about nonexistent bonds. Some of these candidates have also vowed, if elected, to fire County Manager Beth Mull, which would be a colossal mistake. It's hard to imagine how these individuals would actually govern.
It can be difficult to keep track of these folks. Some of these candidates have the support of groups like Moms for Liberty and Free the Smiles — organizations that have made it their mission to disrupt our public school system and discredit our public health department. Some of these candidates have marketed themselves as patriots and are now trying to convince voters that they are part of a grassroots movement to "take back" their government and schools or some other foolishness. If these candidates are elected to the Iredell County Board of Commissioners or Iredell-Statesville Schools Board of Education, it will set our county back years (if not decades), drive off dedicated professional staff members and make it impossible to attract well qualified administrators.
During the past three or four months, voters have had several opportunities to evaluate local candidates at public forums and through candidate interviews that are available online. Sadly, attendance at these events and online viewership has been low. Most of these fringe candidates declined to participate in interviews by the Greater Statesville Chamber of Commerce and Iredell Free News. Fortunately, most have Facebook pages, and a google search can help you learn more about some of these candidates and their causes.
For those who don't have time to conduct a background check on all of the candidates before the polls open on Tuesday, I offer the following recommendations for the upcoming primary and municipal election:
Statesville Mayor
With a crowded field of candidates, this race will probably be decided in a run-off election this summer. Incumbent Costi Kutteh and former councilman Michael Johnson are the two most experienced and most qualified candidates — and the best options to lead Statesville during the next four years. Among the other candidates, Beniah McMiller and Joseph Glasgow are the best alternatives. As I stated in an earlier column, I believe Brian Summers is unfit to serve as mayor based on his recent misconduct related to suppressing Black voters and misleading voters about a political endorsement. Learn more HERE.
Statesville Council At-Large
There is a deep field of candidates for the two at-large seats held by incumbents William Morgan and Steve Johnson. For those who are satisfied with the conservative approach the city council has taken during the past four years, Morgan and Johnson have earned another term. They have helped ensure the City of Statesville is well positioned for the unprecedented residential and industrial development that is in the pipeline. But they've also been part of a council that failed to honor past promises made to South Statesville residents. Among the remaining candidates, Kim Wasson and Roger Bejcek have pledged to champion residents and communities that have been left behind by the council during the past 20-plus years. If you're looking for someone to make life uncomfortable for everyone in City Hall, James Pressly is your candidate.
Statesville Council (Ward 3 & Ward 5)
Incumbent Doris Allison is the better choice in the Ward 3 race. Allison has really found her voice during the past two years. Her challenge going forward is to be more than just an advocate for her ward. She has to start to getting results. In the Ward 5 race, retired city water resources director Joe Hudson gets the nod over incumbent John Staford. Staford has worked hard on behalf of his district and constituents; however, he has also missed the opportunity to be a consensus builder on a council that has been deeply divided during much of his time in office. Hudson's experience and ability to tackle complex challenges by evaluating all options on their merits would be a great asset to the council.
Iredell County Board of Commissioners
Republicans and unaffiliated voters who choose a GOP ballot will select the party's three nominees for the general election in November. In my opinion, three candidates have distinguished themselves from the others with their service to the county: Todd Carver, Bert Connolly and Brad Stroud.
As an I-SS Board representative and the current chairman, Carver has helped the school district navigate the pandemic and the constant attacks on school administrators and the school board, who have worked to keep staff and students safe — and in school. After retiring from the Iredell County Sheriff's Office, Carver began working to prepare the next generation of law enforcement officers as director of Mitchell Community College's basic law enforcement training program. He is the best choice and the candidate most likely to fill part of the tremendous void left by Chairman James Mallory's well-deserved retirement after the general election.
Connolly, who is currently chief deputy of the Iredell County Sheriff's Office, has served county residents for more than two decades and currently oversees the day-to-day operations of the Iredell County Detention Center. His people skills and budgeting experience will be a valuable asset to the commission. For conservative Republicans and pragmatic independent voters, Connolly is a solid choice.
Stroud is a military retiree who recently retired as the Iredell County veterans officer. He has a 20-year track record of helping veterans navigate bureaucratic red tape to ensure they receive the benefits they have earned for their service. Stroud will bring honor and integrity to the board.
Among the other candidates, incumbent Gene Houpe has established a conservative voting record during his tenure, but he has also missed several opportunities to distinguish himself as a leader when it comes to working with and supporting county staff members.
You may find another qualified candidate or two among the rest of the field, but most of these candidates fall into the categories of the unknown/unproven and the unacceptable.
Iredell-Statesville Schools Board of Education (District 3 & District 7)
Kent Shoffner is the best choice in the District 3 race. He is an experienced educator who understands the challenges facing public school administrators, teachers and support staff in 2022 and beyond. Shoffner comprehends the critical and complex role that schools play in the lives of students as well as the transformational role that schools can play in the communities they serve. If elected, he will be a champion for all students.
In the District 7 race, Lisa Meier is the top choice. Based on her strong background in the corporate world and engagement — as a parent of current I-SS students — with our schools, Meier will be a strong addition to the school board. During the campaign, she has visited several I-SS schools to learn more from administrators, teachers and students. If elected, she will hit the ground running.
Iredell County Register of Deeds
Renee Holland has solid credentials and a record of public service through her position as an administrative officer at the Iredell County Health Department. She is the clear choice for this position. I have previously expressed my reservations about the current register of deeds, who hired a pair of Republican insiders with questionable backgrounds for two part-time positions during the campaign season. Learn more HERE.
Iredell County Clerk of Superior Court
Incumbent Jim Mixson is the best candidate in this race. During his tenure as clerk, he has been recognized as a leader among his peers across the state. It's a critical time for the clerk's office as the N.C. Office of Administrative Courts works to upgrade the computer information system across the state. Mixson has been involved in this important work and can help ensure the finished product meets the needs of all stakeholders.