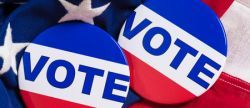 BY MIKE FUHRMAN
The stakes are incredibly high as Statesville voters prepare to go to the polls to select the city's next mayor.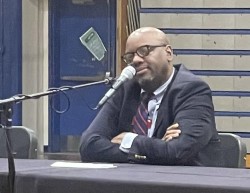 It has become abundantly clear to me that one of the seven candidates — Brian Anthony Summers — has proven himself unfit to hold this important position.
As City Manager Ron Smith predicted during the City Council's planning retreat in January, 2022 is shaping up to be "the year of Statesville." After years of watching as major industries with high-paying jobs selected sites closer to Charlotte, we've seen hundreds of millions of dollars worth of commitments for new industrial development along the Interstate 77 corridor in the past three months. Residential developers have also been making plans for construction of 4,000 new homes in the city.
It's crucial to the city's future that our next mayor be up to the task of leading during this pivotal time.
The next mayor must be a person of integrity, someone who believes that every person who is eligible to vote should have free and unfettered access to the polls. Anyone who has attempted to suppress voter participation is not fit to serve as the mayor of Statesville — or any other city for that matter. Similarly, a candidate who has a recent history of deceiving voters for political gain lacks the virtues necessary to lead. Finally, it is my belief that a candidate who has been charged with a felony related to fraud or theft is not worthy of serious consideration by voters.
For all of those reasons, voters should not waste the time, energy or ink required to fill in the little oval next to Brian Summers' name on the May 17 ballot.
Statesville Branch NAACP President Todd Scott made a public statement at the Statesville City Council meeting earlier this month announcing that a candidate had been falsely claiming to voters that he had been endorsed by the NAACP. The organization does not make political endorsements, he said.
During his comments, Scott did not identify the candidate by name. The NAACP president has since confirmed to Iredell Free News that Summers had been making these false claims to voters.
That is shocking, but it does not seem out of character for Summers.
Two years ago, while he was working the polls in support of judicial candidate Lynn Gullett during early voting in the March 2020 election, Summers told at least four minority voters who went to the Board of Elections Office to cast their ballot that their party was not voting that day or that the candidate they supported was not on their party's ballot.
Scott was at the Elections Office in Statesville that day — he had taken his mother-in-law to vote — when two women told him that Summers had turned them away at the door. Concerned by what he heard, Scott escorted the women back to the Elections Office and notified then-Elections Director Becky Galliher about the incident. The women were allowed to vote, but had they not run into Scott they essentially would have been disenfranchised by Summers' actions.
Ron Wyatt, the current Troutman town manager who was the chairman of the Iredell County Republican Party Executive Committee at the time, said he investigated that incident and another involving Summers and two other Black voters. In both cases, he concluded that Summers had attempted to suppress their right to vote. He told Summers, who is a Republican, that his conduct at the polls was improper and advised him not to do it again.
Scott called Summers' conduct at the polls reprehensible.
"The NAACP does not endorse candidates," he reiterated in an interview this week, "but if we did we would not endorse Brian Summers because of his record of voter suppression."
That wasn't the first time, in my opinion, that Summers' conduct demonstrated a concerning lack of integrity. A background check revealed that Summers was sentenced to 90 days in jail in March of 1999 for violating the terms of his probation after he was charged with obtaining property by false pretense — a felony — but allowed to plead guilty to a lesser offense by the District Attorney's Office. According to Iredell County Superior Court records, Summers was also ordered to pay $955.97 in restitution to Joe Plyler, the owner of Plyler's Men's Clothing on Broad Street in Statesville.
In addition, Summers has consistently exaggerated his role in efforts to have the Statesville City Council rename Lakewood Park in honor of civil rights icon Martin Luther King Jr., according to multiple city officials who were involved in the process. Similarly, he has attempted to take a disproportionate amount of credit for an initiative to improve pedestrian safety in the area of Garner Bagnal Boulevard and Shelton Avenue, those sources said.
After Thursday night's forum for mayoral candidates at Statesville High School, I waited for Summers at the door. As he approached, I asked if I could ask him a few questions. Summers acknowledged me — I've interviewed him before and we spoke at the council retreat earlier this year — but then he held up his cell phone and said he had to take a call. I told Summers I would wait; I wanted to give him a chance to answer some questions. He walked outside and talked with a small group of people before leaving.
On Friday afternoon, I called Summers to give him another opportunity to respond to my questions. He did not answer his cell phone, and his voicemail was full. He also did not reply to a text message asking him to call or provide a written statement.
Summers certainly has the right not to answer my questions. However, his pattern of conduct leaves no question about his suitability to serve as mayor.
Voters must hold candidates for elected office in the City of Statesville to a much higher standard than Summers has exhibited.
Mike Fuhrman is the editor of Iredell Free News.
RELATED: Statesville mayoral candidate vows he's 'Not going anywhere' after his fitness to serve is questioned | Iredell Free News