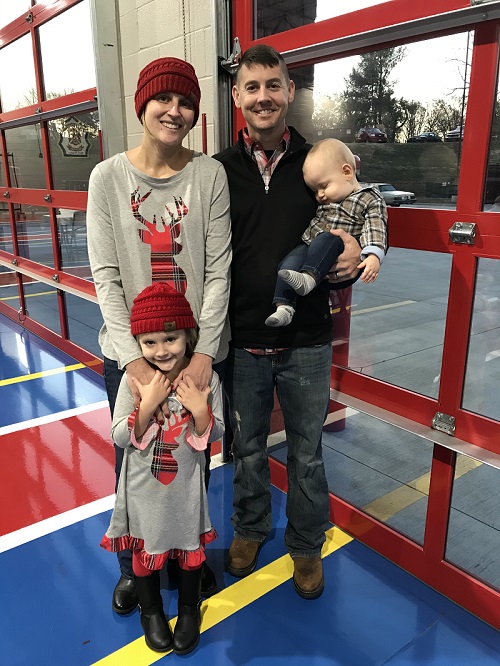 PHOTO: ICSO Detective Adam Blackburn and his wife Keetha pose for a photo with their children, Layla and Barrett, at Cool Springs Fire Department on Saturday.
BY BRANDY TEMPLETON
About six months after waking up with a bad headache Keetha Blackburn is battling a rare form of brain cancer.
The wife of Iredell County Sheriff's Office Detective Adam Blackburn and mother of two, Keetha was later diagnosed with astrocytoma.
On Saturday morning the sheriff's office held a breakfast at Cool Springs Fire Department to support the Blackburn family.
Despite what she's endured during the last six months, Keetha has remained positive. The community support means a lot to her.
"In the scheme of things, there are way worse diagnoses," she said. "I'm one of the lucky ones — I get to watch my kids grow up, I have God's arms around me, a great husband, and we're not alone."
Blackburn, who works in the Criminal Investigations Division and is member of the Tactical Squad, had continued working full time to support his wife and their young children Layla, 5, and Barrett, 7 months.
The detective is a great asset to the department, Sheriff Darren Campbell said, and his co-workers have rallied to help the family in this difficult time.
"They are good Christians. Adam's always been supportive of others," Campbell said. "They go above and beyond to help."
Captain William Hamby also spoke about Blackburn's character.
"Adam's a good, good person," he said. "They're a young, hard-working, Christian family who will do anything for anybody. They're quality people."
Captain Errin Jenkins, Blackburn's supervisor, said the family is very humble.
"They've not asked for nothing — and they don't expect nothing."
For those who were not able to make the breakfast, Sheriff Campbell said they can donate, but thoughts and prayers go a long way.
Both Adam and Keetha believe in the power of prayer.
"I shared a Facebook post asking people to pray," he said. "It was shared 2,600 times by people and churches in Virginia, South Carolina, and Tennessee."
The couple plan to rely of God to find the good during this trying time.
"If it changes one person's life and gets them closer to God, then it's all worth it," Keetha said.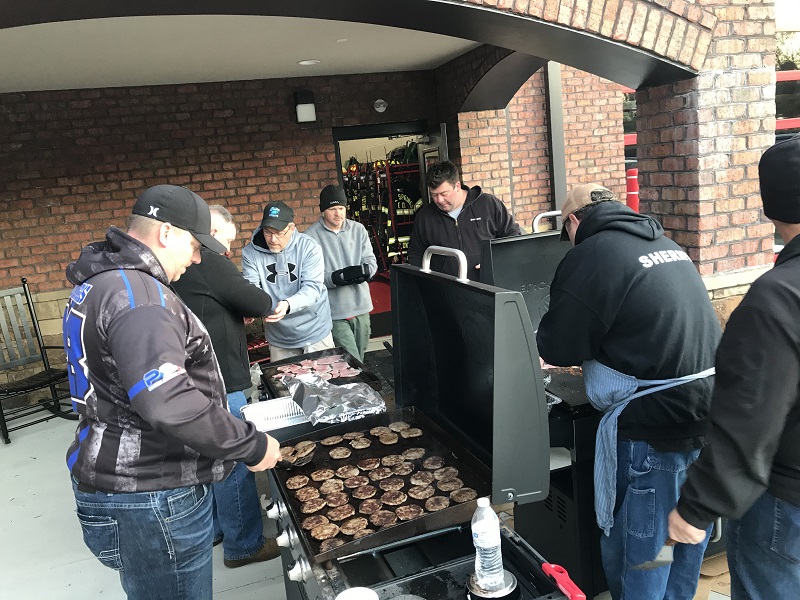 Want to Help?
If you'd like to donate to Deputy Blackburn's family, please send donations to:
P.O. Box 33, Troutman, NC 28166.