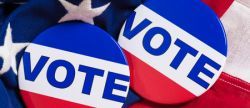 FROM STAFF REPORTS
With five days remaining in the filing period for 2020 elections, most of the races in Iredell County have only a single candidate.
And not one Democrat has filed paperwork to run for office in the county.
The filing period ends at noon on Friday, December 20. Primary elections, if necessary, are scheduled for March 3.
In the only contested local race so far, six Republican candidates are running for three seats on the Iredell County Board of Commissioners. Incumbent Gene Houpe is joined in the crowded field by challengers Raymond Burnette, Scottie Brown, Steve Ellis, Melissa Neader and Ryan Pegarsch.
There are three seats up for grabs on the Iredell-Statesville Board of Education and only one candidate for each. Incumbent Bill Howell has filed in District 2, while Doug Knight has filed in District 4 and Kevin Angell in District 6.
In local legislative races, Sen. Vickie Sawyer is the lone candidate in the 34th Senate District, Rep. Jeff McNeely is without opposition in the 84th House District, and Grey Mills is the only candidate who has filed to succeed Rep. John Fraley in the 95th House District. All three candidates are Republicans.
District Attorney Sarah Kirkman is seeking re-election and thus far faces no opposition.
Meanwhile, Rep. Patrick McHenry faces Republican two challengers, David L. Johnson of Statesville and Ralf Waters of Winston-Salem, in North Carolina's 10th Congressional District.
Rep. Ted Budd, also a Republican, is the lone candidate so far in North Carolina's 13th Congressional District.