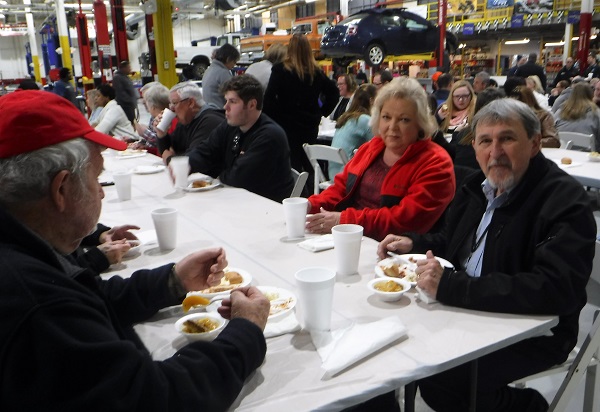 BY KARISSA MILLER
The Career Academy and Technical School's Automotive-Technology Department continued its tradition of showing appreciation to their auto, transportation and community partners with the annual BBQ stakeholders luncheon at the school on Thursday.
Auto-tech students, culinary students and South Iredell High School's ROTC cadets, along with their teachers and Principal Larry Rogers, welcomed nearly 1,000 guests to the CATS auto shop.
Other special guests included school board members, county commissioners, legislators, public safety employees and school administrators.
Instructor Ashley Pope, who oversees the auto tech program, said the first CATS barbecue was held for the program's community partners at the school in 2010.
The auto-tech program was moved from Statesville High, which had been its home since 1996.
Each year, attendees enjoy barbecue, coleslaw, potato salad, green beans, rolls, beverages and a selection of desserts. Guests can drop-in at various times and can sit down and eat or take their meal to go.
Pope said building strong connections in the local community is important for their program.
"There's a long list of people who help to contribute to our program. We invite our local automotive business and transportation-related folks that typically help the automotive program throughout the year. We try and thank the stakeholders for our program," Pope explained.
"Ultimately, they are the ones who end up hiring our students. They may contribute with other things we can use for our program to be successful," he added.
The auto-tech program draws students from all of Iredell-Statesville high schools. Those in the program spend half their day doing hands-on learning in the areas of automotive repair, paint, diesel and other services areas.
The instructors are instrumental in helping not only grow students, but in fostering career opportunities for students. They can also earn industry credentials, too.
"There's a tremendous partnership with the business community," Pope said, adding that he saw some students that graduated eight or seven years ago.
"These students may be a shop foreman or manager who have done well for themselves and it gives us a chance to see former students and reconnect," he said.
The program is certified by the National Automotive Technicians Education Foundation (NATEF) and the Automotive Youth Educational System (AYES).
The auto-tech program instructors are Ashley Pope, Shane Fox, Justin Bennett, Dwayne Troutman and Michael Bowman.
Fast Facts
• The I-SS Auto Tech Center is housed in a 50,000-square-foot facility. The facility contains 24 bays in main shop areas, providing students with a real-world environment.
• The shop is equipped with 12 computer terminals to provide the student with service information. The facility has an in-house parts store where students can learn parts and service sales skills.
• CATS boasts numerous local, state and national awards. In 1997 the program was named the Governor's Entrepreneurial School of the Year.
• In 2015, the auto-tech program was named Tomorrow's Tech 2015 School of the Year by Wix Filters and O'Reilly Auto Parts.
• To date, students have now won more than $3 million in scholarship offers from many of the top post-secondary schools in the nation through various skills competitions.