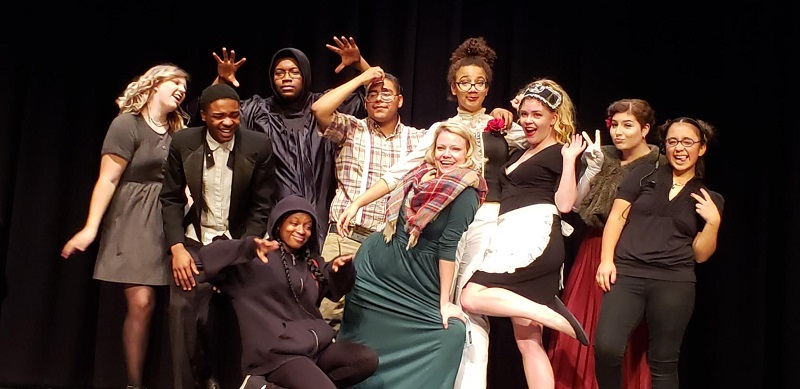 FROM STAFF REPORTS
The Theatre Department at Statesville High School was honored for its performance at the 2019 NCTC High School Play Festival held at Shelby High School on Saturday, November 9.
Led by teacher Stephanie Deal, the Greyhound Players presented "The Fourth Wall" at the festival.
Judges presented the SHS performers with two awards:
♦ Theatre Arts Award: Excellence in Farcical Acting; and
♦ Excellence in Acting by Delano Page
"I could not be more proud of these students," Deal said. "They not only gave an A-plus performance, but they also represented Statesville High in a professional manner with honesty, grace and charm. I'm honored — and proud — to be their teacher, and a Greyhound Player, always."
Greyhound Players
Riley Fowler
Emma Theriot
Alex Fox
Timothy Webb
Delano Page
Madison Heye
Nevaeh Turner
Allison Valentin – Carlos
Angelica Visoso – Ramirez
This year, 3,000 students from 87 schools are performing 121 plays at eight regional sites. The top 16 productions are invited to perform at the NCTC State High School Play Festival on November 21-22 at Greensboro College.
Participating schools travel to their regional festival sites with theatrical sets, costumes, and props. Each show loads in to a 10-foot-by10-foot backstage area. When their time comes, each school group has 45 minutes to set up, performing the play, and clear the stage. Following their performance, students receive feedback from professional actors and directors with Broadway and Hollywood credits.
Awards are given for acting, design, technical craft, ensemble work, and festival spirit.
"The atmosphere at the Play Festival is positive and exciting, and students are filled with energy as they watch shows, learn from their peers and make new theatre friends," said NCTC Executive Director Angie Hays.
For over 30 years, the NCTC High School Play Festival has strengthened arts education in schools by bringing curriculum to life, challenging students to do their very best work, and contributing to the development of future audiences for live performing arts. The program was named one of the "Top High School Theatre Festivals" by Stage Directions Magazine. It is the largest high school theatre event in the Southeast, and has been replicated in nine other states.
The NCTC High School Play Festival is made possible with support from the North Carolina Arts Council, a division of the Department of Natural and Cultural Resources; Ecolab; Lincoln Financial Group; The Beattie Foundation; the Moore County Unrestricted Endowment Fund; Barbizon Lighting Company; and Charlotte Center City.
About the North Carolina Theatre Conference
The mission of NCTC is to strengthen North Carolina's vibrant theatre industry, and engage tomorrow's artists, audiences and advocates. NCTC has served as the leader of the statewide theatre industry since 1970, and produces several events throughout the year, including the NCTC Producing Gathering, NCTC College Discovery Day, the NCTC Theatre Admin Intensive, the NCTC Awards and statewide NCTC Middle School and High School Play Festivals.