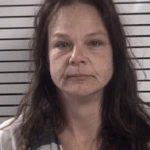 FROM STAFF REPORTS
A 41-year-old woman faces multiple charges in connection with the theft of a vehicle and multiple larcenies in the Statesville area last month.
Iredell County Sheriff Darren Campbell announced the arrest of Victoria Lee McGhee of Statesville in a news release Wednesday.
The ICSO began investigating after receiving several reports involving the larceny of a motor vehicle, breaking or entering a motor vehicle and multiple larceny on the weekend of October 18-20 in the Greenbriar Road, Brown Summit Avenue and Hope Street neighborhoods, Campbell said.
The estimated amount of stolen property, including the stolen vehicle and various tools, was over $3,000, according to the news release.
Property Crimes Division detectives worked with the victims and other witnesses to gather information lead to the recovery of a stolen vehicle, which was used in the breaking or entering, Campbell said.
Detectives linked all three incidents together and then identified McGhee as the suspect, according to the news release. The total amount of recovered stolen property was valued at $2,000.
McGhee was arrested on Sunday, November 10, and charged with felony larceny of a motor vehicle, felony breaking and entering of a motor vehicle, and misdemeanor larceny. She also had three outstanding warrants for failure to appear.
Magistrate Nethken issued McGhee a $15,000 secured bond on these charges.