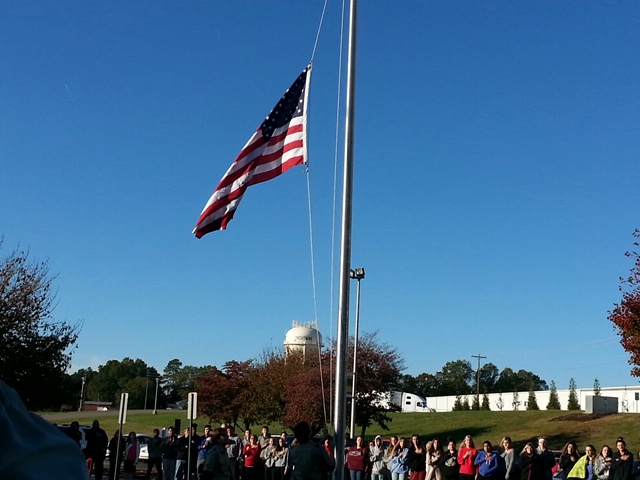 Special to Iredell Free News
The Career Academy & Technical School presented is first Veterans Day Service on Friday, November 8. The morning service was started with the raising of the Colors by Boy Scouts Ben Lighton and Evan Sommer, who are enrolled in the Auto Tech program. Skyler Little from Crossroads Arts & Science Early College sang the National Anthem and students recited the Pledge of Allegiance.
All the students then went to the multi-purpose room and listened as James Hamby, a retired sergeant first class and member of the Army Green Beret discussed "What Does Veterans Day Mean?" He was accompanied his special guest, Pokey his service dog.
In the afternoon service, Hamby again spoke to students and fielded questions about his service to our country.
The Colors were retired by the Fire Academy Honor Guard, with Aliza Phillips, Jose Comacho and Nathan Dancey doing the honors. Don Woodside with Bugles Across America and Efrain Zavaleta from West Iredell JROTC played "Echo Taps" to conclude the service.