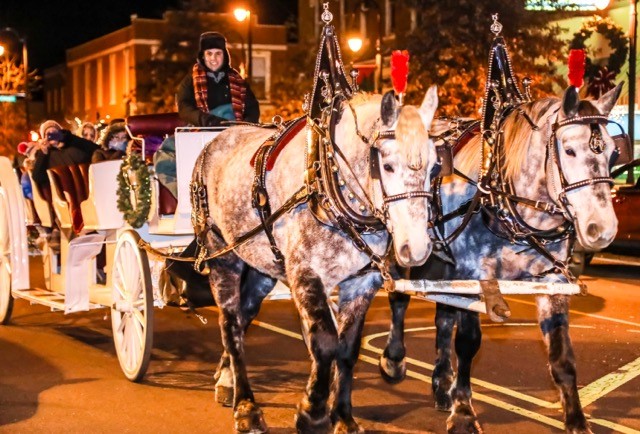 Special to Iredell Free News
Bring the whole family to Downtown Statesville on Friday, December 6, for the Holiday Shop & Stroll Spectacular.
This event features the feeling of an old-fashioned, smalltown Christmas season, with a dash of excitement and a sprinkle of magic. From 5:30 to 9 p.m., enjoy a fun evening of merchant open houses, stroll the sidewalks, listen to carolers, and enjoy the sparkle of holiday lights. Enjoy a live nativity, make a s'more by the fire, and experience a little snowfall magic!
Visit Santa Central at City Hall
Santa Central will be filled with fun for the little ones! Visit with Santa Claus and his elves, write a letter and send it straight to the North Pole with the magic mailbox, and make a craft with Santa's elves! There will even be popcorn and hot cocoa for warming up!
Nutcracker Selfie Station at City Hall
City Hall's Nutcracker theme has grown this year – Check out the adorable life-size Nutcracker stand-in where up to four persons can take pictures showing their faces through the holes.
Horse-Drawn Carriage Rides (6 to 9 p.m.)
Sponsored by Downtown Statesville Development Corporation. Surround yourself with the sights and sounds of the holidays in a beautiful horse-drawn carriage ride through Downtown Statesville. Snuggle close to family and friends as you take a break from the hustle and bustle of the season. Tickets are $5 per person (children 4 and under are free, but they must sit on your lap). Each ride is approximately 15 minutes. Tickets will be available for purchase beginning at 5 p.m. on December 6 near the "Square" (104 S. Center Street). All ticket holders will receive "Downtown Dollars" (valued at $5 for each ticket sold) that can be redeemed with a purchase at participating downtown businesses.
Live Nativity at First ARP Church (6:30 p.m. and 7:30 p.m.)
The Nativity Story will be presented live outside the front of First ARP Church, located at 123 East Broad Street, with presentations from 6:30 to 7 p.m. and 7:30 to 8 p.m. Special music will be provided prior to and between performances by the Five 'til Five Brass Quintet. In the event of bad weather, the presentations will take place in the sanctuary.
S'mores Station (6 to 8:30 p.m.)
Warm up by the fire, roast a marshmallow, and enjoy a warm gooey S'more. Statesville Fire Department will be there make to sure everyone safely enjoys the evening! The S'mores Station will be located next to Sub Express. S'more kits will be sold for $1 each.
Train Rides at the Statesville Civic Center (6 to 9 p.m.)
Train enthusiasts of all ages will love a ride on the trackless train, provided by the Statesville Civic Center. Adults and children alike are welcome to take a free ride and warm up with hot chocolate under the Civic Center bell tower!
Victorian Carolers and Music
There will be no shortage of holiday music during the Shop & Stroll Spectacular! Victorian Carolers will be roaming the streets throughout the night to bring cheer to everyone around. There are also many other locations that will be hosting live music during the evening. Be sure to check the Downtown Statesville calendar (www.downtownstatesvillenc.org/calendar) for details that night and throughout the year!
Downtown Shopping & Dining
Downtown retailers are putting on their holiday best and opening their doors to shoppers. Stores will be decked out and stocked with this season's best gifts for everyone on your list. Many of the shops will provide great deals and special in-store events. To go with the holiday shopping season, downtown restaurants are ready to treat you to the holiday feasting season.
Open House at the Historic Sharpe House (5:30 to 9 p.m.)
Stroll down to the beautiful Sharpe House and take in the seasonal décor, festive holiday goodies and hot apple cider!
Key to Escape, 150 East Sharpe Street from (5:30 to 9 p.m.)
Tease your brain! Try your luck at their portable, 15-minute game that will be available in the Key to Escape lobby for $5 per group. Gift certificates will also be on sale for a discount.