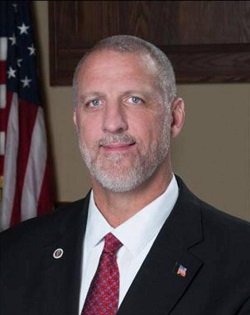 FROM STAFF REPORTS
Iredell County Commissioner Gene Houpe plans to file for re-election on Monday, December 2.
"It has been an honor and privilege to serve the citizens of Iredell County," Houpe, a Republican, said Saturday in a news release announcing his candidacy.
"We have worked hard to promote balanced growth, a growing economy, and support for our schools which provide a trained workforce," he added.
Three seats on the Iredell County Board of Commissioners will be on the ballot in November 2020. Candidate filing begins Monday and runs through December 20. A primary will be held in March if more than three Republicans file.
Houpe, who is seeking a third term in office, serves on multiple task forces, boards and committees as a commissioner. These assignments, he said, have helped him build strong relationships with local, state and federal officials on behalf of Iredell County.
Houpe was elected as the District 12 Director of the N.C. Association of County Commissioners. In this capacity, he represents eight counties in this region. Only one other Iredell commissioner has ever been elected to this position.
Among his priorities are continuing to advocate for state and federal grant funding for road, airport and school projects.
"I hope to continue working with other elected officials and citizens to ensure Iredell County continues to be a great place to live, work, and raise a family," Houpe said.