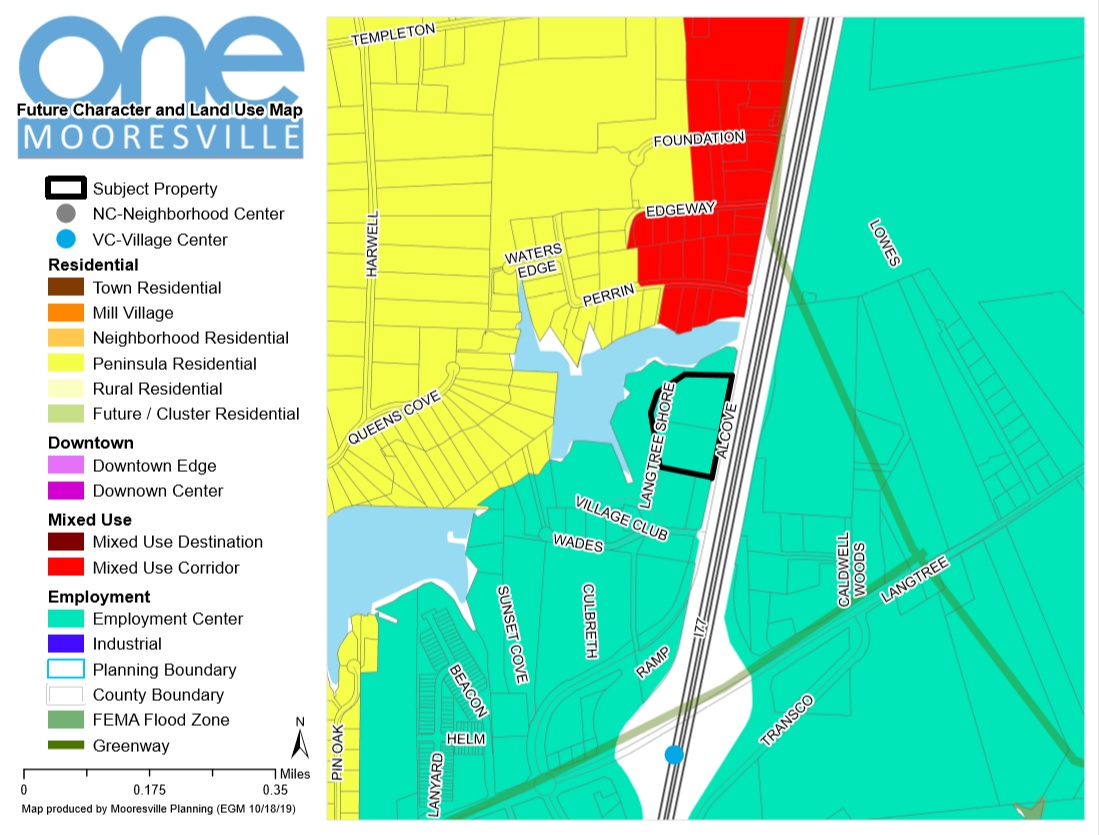 FROM STAFF REPORTS
Mooresville town commissioners are scheduled to conduct a public hearing on Monday to consider a request for a conditional-use permit by a developer who wants to build two eight-story buildings off Alcove Road.
Developer Rick Howard is planning to build a hotel and a residential building on the 8-acre site, which under town zoning is entitled for a five-story, 125-room hotel, according to town staff.
There is an associated rezoning request seeking additional residential units for the site, which is owned by JDHQ Land Holdings.
The OneMooresville Plan designates this site as Employment Center, which supports "offices, light production facilities, business incubators and maker spaces, hotels, conference centers, along with supporting retail, restaurants, and services."
The site has been previously approved for a hotel. In the application for the conditional-use permit, Howard said the top elevation would be lower than a new hotel on the southern tract and would have no negative impact on the neighborhood.
The wooded property is adjacent to residential property to the north and multi-family to the west.
Before allowing the conditional use permit, commissioners must find that the development:
♦ Does not materially endanger the public health or safety;
♦ Complies with all relevant town laws and ordinances, state and federal laws, and regulations, and any regulations imposed by the Town Board and agreed to by the applicant;
♦ Would not substantially injure the value of adjoining property or is a public necessity; and
♦ Will be in harmony with the area in which it is located and be in general conformity with the Comprehensive Land Use Plan.
OTHER BUSINESS
In other business:
♦ Commissioners will elect a mayor pro tem;
♦ Hold a public hearing to receive public comment before finalizing voluntary annexation petitions by adopting annexation ordinances. The following parcels will become part of the Town's corporate limits on December 30, 2019:
1. Norman and Dealiena Felts – 123 Joshua Lane – 4648-50-9238
2. Donnie Mack Williams – 124 Joshua Lane – 4648-50-9816, 4648-60-0532
3. Blue Jay Investments, LLC – Ervin Road – 4647-18-8833, 4647-18-8977, 4647-19-8194, 4647-198275, 4647-19-8346, 4647-19-8468, 4647-19-8516, 4647-19-7684, 4647-19-7734, 4647-19-7832, 4647-19-9724 & 4647-19-9819
4. Susan Kontz/ Donald Edward – 2918 Charlotte Highway – 4656-19-8016
5. Parikh Corp – 2187 Charlotte Highway – 4658-53-2591
6. Eric Howard – 1970 Charlotte Highway – 4658-77-6264
7. Lake Norman Humane, Inc. – 2106 Charlotte Highway – 4658-55-5234
8. 833 River Highway, LLC. – 833, 847, 855 River Highway – 4637-88-1178, 4637-87-1826, 463787-4627
9. Zip Properties, Inc – 973 River Highway – 4637-59-9311
10. Zip Properties, Inc – 983 River Highway – 4637-59-7402
11. Iredell Avenue Residential Development, LLC. – 1025 Coddle Creek Highway – 4666-79-3274
12. Nest Communities, LLC. – Brawley School Road – 4636-16-4247, 4636-16-5336
13. Nest Communities, LLC – Brawley School Road – 4636-16-3144
14. R12 Company, LLC – Hillcrest Drive – 4667-63-9643, 4667-73-0961, 4667-74-2061, 4667-731744, 4667-73-3960
15. Request removed.
16. J. Booth Properties, LLC. – 823 Oakridge Farm Highway – 4668-51-7430
17. Realco – Faith Road and Shearers Road – 4665-18-9010, 4665-27-4830, 4665-28-7065, 466527-7970, 4665-27-5447
18. Norma Jean Cloaninger – 461 Faith Road – 4655-74-2792
19. Sequoia Forest, LLC. – 2243 Charlotte Highway – 4658-42-9115, 4658-42-4264