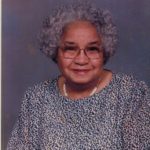 Mrs. Margaret Alexander Feimster, 102, of 186 Feimster Place Lane, Statesville, N.C., passed away on Saturday, November 9, 2019, at her residence. She was born in Iredell County on January 8, 1917, and was the daughter of Whitfield Alexander and Edna Alexander Murdock. She was married to Allen Feimster, who preceded her in death. She was also preceded in death by four children, Allen Whitfield Feimster, Edna Louise Feimster Houpe Stevens, Ronnie Lee Feimster and infant Mildred Feimster; two siblings, Ellen Nichols and Wilford Morrison; and two grandchildren.
She leaves to cherish the memory of her life four children, Charles Henry (Gladys) Femister, Julia Rebecca Feimster Lackey, Willie Leonard (Margie) Feimster and Kenneth Sherman Feimster; brothers, T.C. (Tilly) Murdock and Pinkley Murdock; sister-in-law, Emma Feimster; 23 grandchildren; 32 great-grandchildren; 27 great-great-grandchildren; and a host of nieces, nephews, other relatives, and dear friends.
Celebration of Life Services will be conducted on Friday, November 15, 2019, at 2 p.m. at Highland Acres Church of Christ, Statesville. Brother Al Simmons will officiate and burial will follow in the Belmont Cemetery.
Members of the family will receive friends at the church from 1 until 1:55 p.m., but will assemble at the residence at all other times.
Visit the Book of Memories for Mrs. Feimster at rutledgeandbigham.com.
Rutledge and Bigham Funeral Home is serving the family of Mrs. Margaret Alexander Feimster.