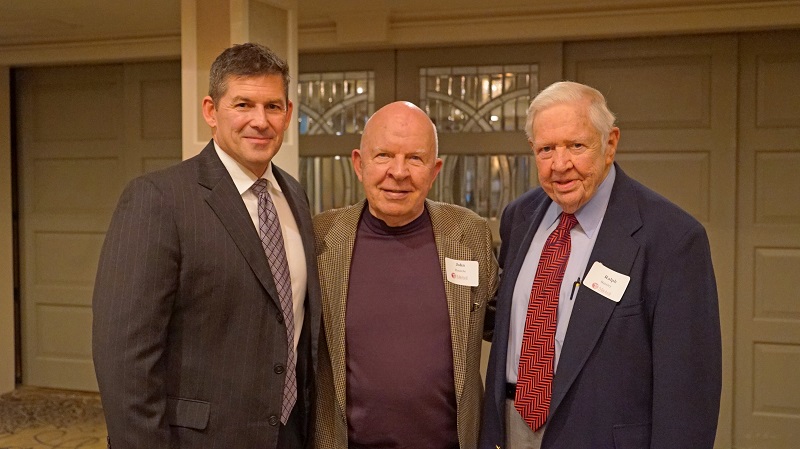 Pictured (from left) are Mitchell Community College President Dr. Tim Brewer, Dr. John Roueche (1958), and Mitchell Board of Trustees Chairman Dr. Ralph Bentley, at the third annual President's Circle Dinner.
Special to Iredell Free News
Mitchell Community College Foundation and Endowment for Excellence presented its 2019 Excellence in Giving and Service Award to Dr. John E. Roueche Jr. on Thursday, November 21, at the Foundation's President's Circle Dinner.
The Foundation also made a surprise announcement that Roueche had committed $500,000 toward the John and Suanne Roueche Scholarship Endowment.
Mitchell President Dr. Tim Brewer noted that Roueche–a first-generation college student and Mitchell College alumnus (1958)–has impacted millions of students who attend community colleges with his life of research, leadership, advocacy and service to community colleges nationwide.
Roueche's connection to community colleges began locally. As a Mitchell student, Roueche worked a job in a nearby textile mill to help pay for his education, and the college gave him a $100 scholarship.
When the mill closed down, one of Roueche's history professors called him late on a Friday evening to encourage him not to drop out of college. "He told me not to even think about quitting," Roueche recalled. "He called around town and helped me find another job at Purcell's Drug Store."
Roueche would go on to graduate from Mitchell, earning degrees from Lenoir-Rhyne and Appalachian State University. Roueche was offered a Kellogg fellowship to complete his doctorate at Florida State University, studying higher education leadership.
From there, he joined faculties at Duke University and UCLA before heading up the higher education department at the University of Texas, where he stayed for the next 42 years. Roueche became one of the nation's foremost scholars in higher education research, publishing 37 books and hundreds of research articles.
In 2016, the American Association of Community Colleges honored Dr. Roueche with the Harry S. Truman Award, its highest accolade.
He never forgot about Mitchell Community College. With his late wife, Dr. Suanne Roueche, he gave scholarships back to the college that helped him get started. In 2014, the Roueches endowed a scholarship.
Brewer, when presenting the Excellence in Giving and Service Award, noted "this gift will bring Dr. Roueche's scholarship endowment to more than $700,000, and it will change lives for generation after generation of students here at Mitchell Community College. We are truly grateful."
James D. Hogan, Mitchell's vice president for Advancement, told President's Circle attendees that the college benefitted from more than $1.3 million in support last year.
The President's Circle– a giving society composed of donors who contribute at least $1,000 annually–provided substantial contributions impacting Mitchell's students and community.
"On behalf of our students, faculty, and staff, we are so humbled to have your support, and we are grateful in your investment not only in Mitchell, but in our entire community," Hogan said.
Founded in 1996, the Mitchell Community College Foundation has provided millions of dollars in sustaining support to Mitchell Community College. The Foundation is able to offer immediate impact through its Maverick Fund, One Mitchell Scholarship, Friends of the Arts and Experiential Learning funds. Its Endowment for Excellence offers sustaining resources to fund strategic priorities, program development, and other critical needs. Learn more at mitchellcc.edu/giving.
The Excellence in Service and Giving Award honors a donor to the Mitchell Community College Foundation and Endowment for Excellence who has shown dedication to the College and community. To learn more about the Mitchell Community College Foundation and Endowment for Excellence, contact James Hogan, Vice President for Advancement, at jhogan@mitchellcc.edu or (704) 878-4321.
About Mitchell Community College
Mitchell Community College serves 9,000 students annually through a variety of curriculum, continuing education and workforce development programs. With campuses in Statesville and Mooresville, Mitchell offers quality, affordable education options to residents of Iredell County and the surrounding area. For more information, visit www.mitchellcc.edu or call (704) 878-3200 (Statesville Campus) or (704) 663-1923 (Mooresville Campus).