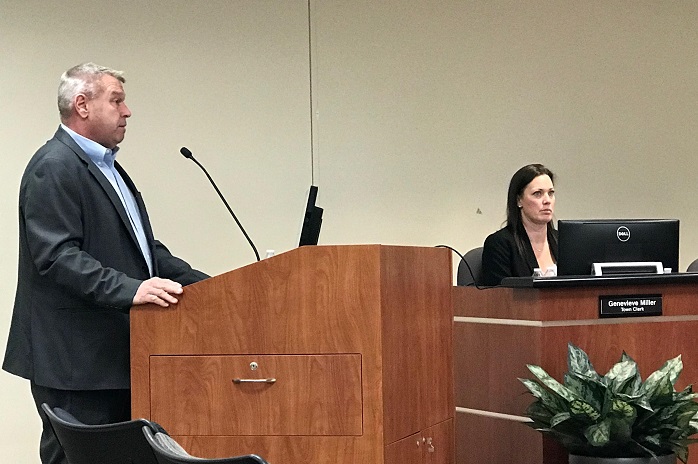 BY MIKE FUHRMAN
Despite objections from neighbors as well as their own concerns about the property owner's lack of transparency regarding his plans for the site, Mooresville town commissioners approved a rezoning request for an 11-acre tract off U.S. Highway 21 on Monday evening.
Adding an element of drama to the proceedings was the identity of the property owner.
Iredell County Commissioner Tommy Bowles, representing Sequoia Forest, LLC, asked the commissioners to rezone the property from R2/R5 to R3 to make way for 33 single-family homes. He and his wife own the property with a long-time friend, Bowles said.
The current zoning would have allowed 35 units, including townhomes, which could be built "by right" without approval of the town commission.
So resistance to the property's residential development by residents of the neighboring Greencroft development was mostly futile.
But they were given the opportunity to be heard by the town board. The neighbors' opposition stemmed largely from a town ordinance that requires new residential developments to connect to existing developments, creating the likelihood of increased traffic in Greencroft.
"We don't want this development or any other future development opening up into our neighborhood," one resident said during Monday's public hearing.
Greencroft residents accurately pointed out that the roads in their community were narrower than roads required by the current town ordinance, which causes problems when buses and other large vehicles are in the neighborhood. They also expressed concerns about crime, and the safety of neighborhood children and pets — as well as worry about a possible influx of mosquitoes associated with the proposed retention ponds in the Sequoia development.
The town's planning staff recommended approval of the rezoning.
Commissioners, however, were less than impressed with Bowles' approach to the matter. Before Monday's meeting, they had not seen a site plan, which is their custom when they are considering rezoning requests, Mayor Pro Tempore Lisa Qualls said.
"I'm really concerned with transparency and putting our board in a challenging situation," Qualls said.
Making allowances for a sitting county commissioner in official town business does not reflect well on the town board and lends credence to the fact that many people don't trust their government, she added.
Bowles said he had been working with town staff on plans for the project "for several months, but we have not got all the kinks worked out." He presented the commissioners with a conceptual plan of the development, which he said would "clean things up dramatically."
An associate of Bowles' told town commissioners that the homes would be priced between $290,000 and $370,000.
But Greencroft residents pointed out that the plans could be changed after the rezoning and that Bowles or any subsequent property owner would not be bound by the conceptual plan he shared with the commissioners on Monday.
Qualls, who cast the lone dissenting vote when the rezoning was approved, expressed her skepticism as well, suggesting the property could be flipped and developed into less valuable rental property.
"It looks beautiful," she said of Bowles' plan, "but this is not what is going to come back."
OTHER BUSINESS
In other action Monday, town commissioners:
♦ Delayed a public hearing on a request for a conditional-use permit that would allow developer Rick Howard to build two eight-story buildings off Alcove Road. The hearing will be held February 3.
♦ Approved voluntary annexation for 18 parcels.
♦ Approved a request from Parks and Recreation to accept a proposal from DA Clark Scupture, LLC, in the amount of $75,000 to install the sculpture entitled "The Family Business" at Liberty Park.