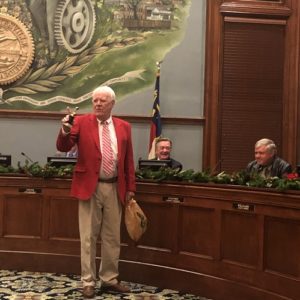 BY STACIE LETT CAIN
Outgoing Statesville City Councilman Roy West couldn't resist taking a final shot at his current nemesis, Councilman John Staford, as West's tenure on the council came to an end Monday night.
West, who nearly came to blows with former Councilman Jarrod Phifer in July 2017, has been directing negative comments at Staford with increasing frequency in recent months.
During Monday's meeting, before the three new council members were sworn in, West stood and pulled a small gold trophy from a bag he was carrying and approached Staford.
"Many years ago I earned this award and I would like to present it to someone on this council who has equally earned it," West said. "John, I would like to present this Horse's Ass Award to John Staford."
After the laughter subsided, Staford smiled and told West he was going to miss him.
Prior to that awkward moment, Mayor Costi Kutteh presented all three outgoing council members, Michael Johnson, Keith Williams and West, with plaques honoring their service.
"These men serve this area, this region, in a variety of ways and their contribution to our board is just one of the many things they do to serve," Kutteh said. "We are losing years of experience and a wisdom that comes from years of service. They will be dearly missed."
All three outgoing councilmen declined to seek re-election this year.
Lawton, Jones and Foster take office
After West had the honor of making the motion to adjourn his final meeting, the page was turned and the three new council members were sworn in.
Superior Court Judge Joseph Crosswhite administered the oath to Amy Lawton, David Jones and Frederick Foster. All three won run-off elections by narrow margins in November.
In the first matter of business before the new council, Kutteh was forced to break a 4-4 tie after a motion was made for Councilman William Morgan to serve as mayor pro tempore. The mayor voted in the affirmative and Morgan was selected for the new role.
Superior Court Judge Joseph Crosswhite swears in the new council members as their family members look on during Monday's Statesville City Council meeting.
OTHER BUSINESS
City Manager Ron Smith announced the resignation of Statesville Fire Chief Spencer Lee, whose last day will be December 13.
Thanking Chief Lee for his service, Smith said that though Lee had been a stellar person to work with and would be greatly missed.
Councilman Steve Johnson shared that sentiment.
"Being in this type of work once in a while you meet someone who you believe shares the same soul that you have," Johnson said. "I believe that of Chief Lee. He is a man of great character and great faith and he will be sorely missed here."