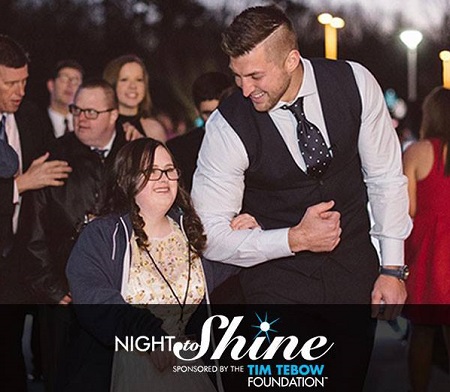 Special to Iredell Free News
Rocky Mount Church announced Friday that the church will serve as one of nearly 700 churches around the world already registered to host Night to Shine 2020, sponsored by the Tim Tebow Foundation.
This event will be hosted through local churches across the globe simultaneously on Friday, February 7. Night to Shine is an unforgettable prom night experience, centered on God's love, for people with special needs ages 14 and older.
Rocky Mount Church is excited to be a part of this worldwide movement that is uniting churches of different denominations all over the world with the common goal of celebrating people with special needs.
Every guest of Night to Shine enters this complimentary event on a red carpet complete with a warm welcome from a friendly crowd and paparazzi. Once inside, guests receive the royal treatment, including hair and makeup stations, shoe shining areas, limousine rides, corsages and boutonnieres, a catered dinner, karaoke, prom favors, a dance floor — all leading up to the moment when each guest is crowned king or queen of the prom.
"We still have a few spots left for quests. Our church is so excited to host this event." said Roberta Browne, NTS coordinator for Rocky Mount Church. Guests can go to the event registration page at:
https://rockymount.nighttoshine.com/ to sign up.
"It is awe inspiring to see how God is using the Church globally to stand up and advocate for people with special needs," said Tim Tebow, founder of the Tim Tebow Foundation. "I truly believe that the world is coming together through Night to Shine to celebrate the love that God has for us! Every town, every village, every state, every country needs a Night to Shine for their special needs community – a chance to be a part of something significant and life-changing…and to be blessed in the process."
Night to Shine has experienced incredible growth, now in its sixth year of existence. The event launched in 2015 with 44 host churches and 15,000 volunteers honoring more than 7,000 kings and queens of the prom.
In February 2019, 655 host churches and 200,000 volunteers came together to celebrate 100,000 honored guests with special needs.
Now in its sixth year, the Tim Tebow Foundation anticipates 800 churches to sign up to host the event taking place this coming February.
LEARN MORE
For additional information on the Night to Shine hosted by Rocky Mount Church in Mooresville, visit https://rockymountchurch.com/ or https://rockymount.nighttoshine.com/ to register as a guest.
Donations of any amount will be accepted. See the registration page to find the link to donate: https://rockymount.nighttoshine.com/
For more information on the worldwide movement of Night to Shine, sponsored by the Tim Tebow Foundation, visit: http://www.timtebowfoundation.org/index.php/night-to-shine/
ABOUT TIM TEBOW FOUNDATION
The Tim Tebow Foundation exists to bring Faith, Hope and Love to those needing a brighter day in their darkest hour of need. That mission is being fulfilled every day through the foundation's seven areas of outreach, including W15H, Timmy's Playrooms, Orphan Care & Prevention, Adoption Aid, the Tebow CURE Hospital, Team Tebow and Night to Shine. For more information on the Tim Tebow Foundation, please visit www.timtebowfoundation.org