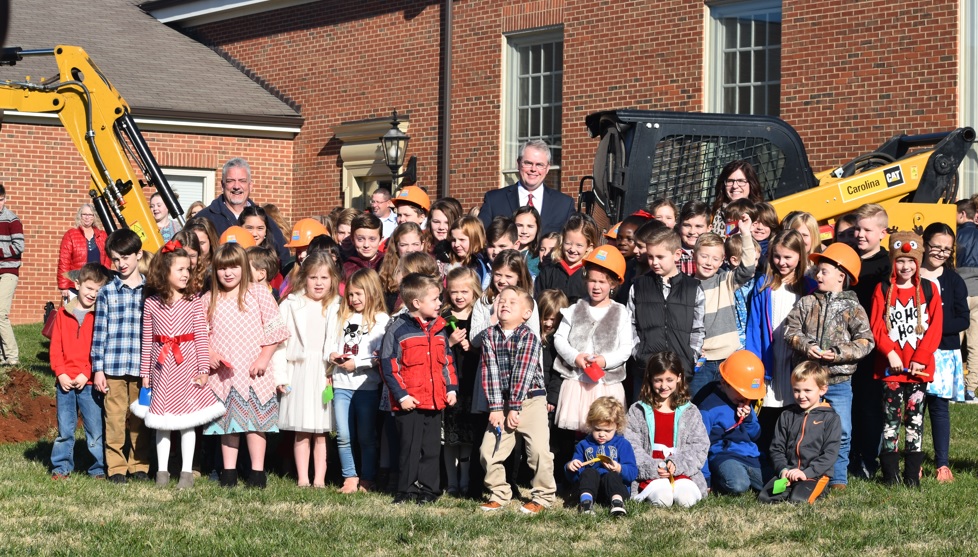 Special to Iredell Free News
Western Avenue Baptist Church broke ground on a new children's building on Sunday morning, December 15. In between worship services, church members gathered at the future location of the new building for a special ceremony.
After the backhoe broke ground, elementary school-age children received small shovels and containers to fill with dirt as a keepsake from the event.
Planning for the new building began months ago with the launch of an "Ignite" campaign program. Church members met to plan and committed to raise funds.
The addition for the children's ministry will be approximately 17,500 square feet. It will include eight classrooms, a large multi-purpose assembly room and a serving kitchen. The estimated completion time is 11 months.
When planning for a church expansion, members quickly identified the children's ministry as most in need of more space, and a designated space just for them.
"I have been on staff at Western Avenue for 10 years and over that time our children's ministries have continued to grow to the point that we have outgrown our current gathering room," said Ann Veach, director of Children's Ministries. "Our congregation recognized the need to provide a place that was just for kids, where this continued growth could take place, so we began planning for a new children's wing."
Everyone was amazed at how the children really took the fundraising efforts to heart.
"We asked each of our families to pray about how they could contribute to the building program and through that campaign our Avenue Kids raised over $1,500 of their own money," Veach said. "We had students who sold lemonade and brownies and another who wrote and sold personalized stories all to raise money for their building. However, the most amazing stories were from those students who asked their friends to give money to the Ignite program as an alternative to buying them birthday gifts! These children never cease to amaze me!"
Western Avenue hopes this new building will simply be a tool to share the Gospel with more children –and their families — as well as to equip children as they grow and learn.
"We want our children to grow in their knowledge of God, their knowledge of the Bible and then to be used by God in great ways," Senior Pastor Jeff Spry said. "It is our desire that these children here today and those who come behind them from the children's ministry here at Western Avenue will become teenagers who live for God, young adults who go out in the service of God to be missionaries in the furthermost parts of the world and to take the gospel to where they work and to raise Godly families. This is not just a place for kids to come to have fun; it's a place for kids to be taught and to grow in their knowledge of the Gospel and to be used by God in great ways in the years to come."
Western Avenue realizes the importance of teaching children about Jesus and equipping them to share their faith, even now as elementary school students. "My goal for our Avenue Kids program is to provide a place where children have fun, feel loved, and grow in their faith while being taught by leaders who are equipped, encouraged and empowered," Veach said. "I want children to be excited about coming to church, but more importantly I want them to be excited about taking the church with them to their schools, to the ballfields, and to their homes."
LEARN MORE
Visit www.westernavenue.org to learn more about Western Avenue Baptist Church.