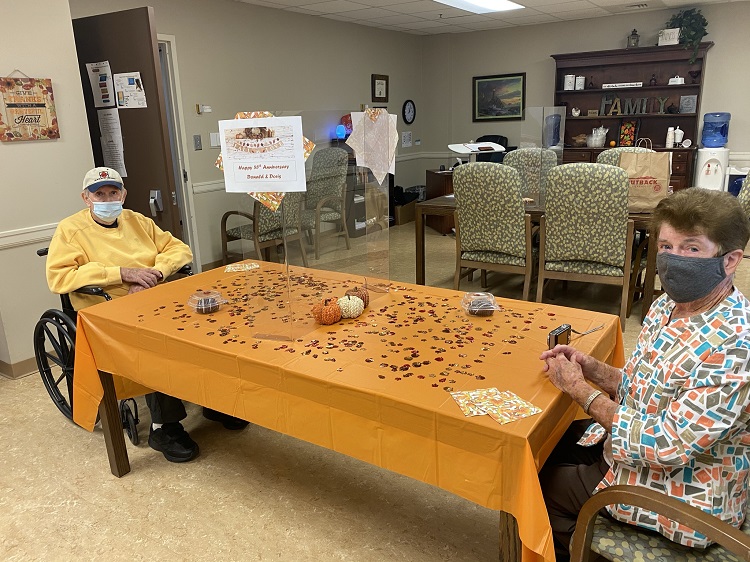 Special to Iredell Free News
When Donald and Doris Eades looked forward to celebrating their 55th wedding anniversary this year, they didn't imagine how different it would be.
As a resident at Iredell Health System's Hospital-Based Skilled Nursing Facility, Donald wasn't able to take his wife out to dinner like he always has. Instead, the two sat six feet apart at a table decorated in their honor in the facility's day room, enjoying a meal that they'll remember for years to come.
While this year's anniversary meal was certainly a drastic change from their traditions, they are grateful for the staff who continuously go above and beyond to make Donald's unexpected stay at the nursing facility as comfortable as possible, including helping the couple celebrate the special occasion during trying circumstances.
"This year is very different" Doris said. "They're very nice people and go out of their way to do things for other folks – that's what Donald and me always try to do too. We appreciate anyone who does anything for us."
Doris grew up in Iredell County and went to Celeste Henkel, and Donald was raised in Catawba County, just a few miles down the road from where the couple now lives near Sherrill's Ford.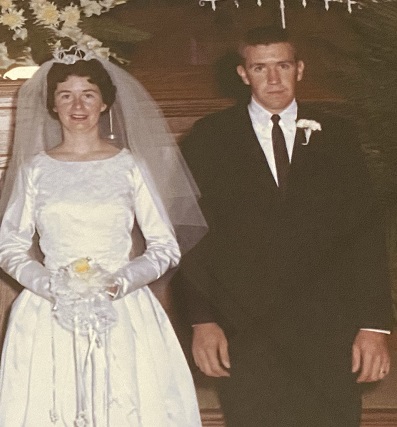 The couple met in the fall of 1960 while both were working at Troutman Shirt Factory. Their first date was set up by the girlfriend of Donald's cousin – a double date – and the two continued to date for another five years before finally tying the knot.
They were married in a double wedding with Doris's sister and husband on October 9, 1965, at Beulah Baptist Church on Old Mountain Road in Statesville.
"I know the exact moment [we said 'I do'] – 4:16 pm," Donald said.
Their wedding was simple, Doris said. She made her and her sister's wedding dresses, and Donald's $30 suit came from Efird's Department Store in Statesville.
"It was all we could afford," she said.
They honeymooned for two nights in Asheville, then headed home so Donald could return to work. One year later, they celebrated their anniversary with the first piece cut from their three-tiered wedding cake, saved from their special day.
As the years progressed, Donald and Doris's family grew and they welcomed two sons, David and Darin. While Donald spent more than 29 years working for Duke Power, Doris opted to be a stay-at-home mom until the kids were older.
"That worked out really good, for her to be able to stay at home and take care of stuff around the house while I worked," Donald said.
"He never minded that I wasn't working," Doris said, reflecting on others she knew who weren't fortunate enough to be able to stay home with their children.
Before leaving for work every day, Donald would playfully remind Doris of their motto when taking caring of their boys.
"Don't let them have a stick, don't them have a rock, don't them have a rope, he used to say," Doris said, laughing as she and Donald both recalled times when their sons got into trouble and were injured from a variety of childhood antics. "Our youngest one, he always wanted to try things, knowing he was gonna get hurt, but he didn't mind trying them!"
Now the grandparents of two, Doris is 79 and Donald will be 81 at the end of this month. They have many fond memories of their time together, including spending Doris's 70th birthday doing a one-mile hike along the Appalachian Trail, and fulfilling a life-long dream to travel out West once their youngest son left home for college.
"We took 19 days and finally went. We went all the way out to the Dakotas and Montana, back down through Nevada and New Mexico and Texas," Doris said. "We bought a new truck that had a camper on the back of it. Some nights we camped in the back of the truck, some nights we stayed in a motel, and we stayed at campgrounds in camper cabins a couple of times."
As they reflected on their marriage and what's made it successful, both agreed it all boils down to commitment, trust and respect for each other.
"I wouldn't have gotten married if I didn't plan to stay married," Donald said. "I made a very good choice."
"I've never wanted anything different," Doris said. "If I had to do it over, I would do it over the same way."
About Iredell Health System
Iredell Health System includes Iredell Memorial Hospital; Iredell Home Health; Iredell Wound Care & Hyperbaric Center; Community and Corporate Wellness; Occupational Medicine; the Iredell Physician Network and more. Iredell Memorial Hospital is the largest and only nonprofit hospital in Iredell County. The comprehensive healthcare facility has 247 beds; more than 1,700 employees; and has 260 physicians representing various specialties. Centers of excellence include Women's and Children's; Cardiovascular; Cancer; Surgical Services and Wellness & Prevention. The mission of Iredell Health System is to inspire wellbeing. For a comprehensive list of services and programs, visit www.iredellhealth.org.