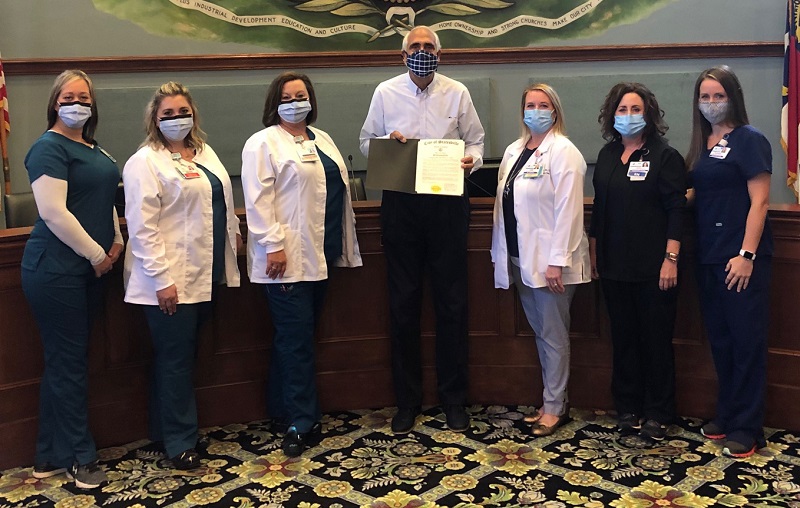 Special to Iredell Free News
During Emergency Nurses Week (October 11-17), Iredell Memorial Hospital is commending its emergency nursing staff for the tremendous care they've unyieldingly provided during a demanding and unpredictable year.
"They are a true team that has stepped up to the challenge of caring for patients in this pandemic," said Emergency Department Director Rhonda Ruppe. "Emergency nurses care for patients during their most difficult time while showing compassion and respect."
Iredell Memorial is celebrating this year's holiday with the slogan "Heroes with Heart," recognizing the Emergency Department's 50 registered nurses and 25 certified nursing assistants as heroes who go above and beyond to care for patients in emergencies.
The City of Statesville issued a proclamation that stated, "Emergency nurses showed their true heart of gold in one of the most challenging years in modern history by treating patients in the midst of the COVID-19 pandemic."
The City asked all Statesville citizens to join in extending great appreciation to nurses for the dedication and service they provide to the community.
Iredell Memorial Emergency Department's strict safety measures have enabled its emergency staff to care for COVID-19 patients while protecting other patients from exposure to the virus, remaining constantly available to give safe care to anyone in need of emergent medical attention.
About Iredell Health System
Iredell Health System includes Iredell Memorial Hospital; Iredell Home Health; Iredell Wound Care & Hyperbaric Center; Community and Corporate Wellness; Occupational Medicine; the Iredell Physician Network and more. Iredell Memorial Hospital is the largest and only nonprofit hospital in Iredell County.
The comprehensive healthcare facility has 247 beds; more than 1,700 employees; and has 260 physicians representing various specialties. Centers of excellence include Women's and Children's; Cardiovascular; Cancer; Surgical Services and Wellness & Prevention. The mission of Iredell Health System is to inspire wellbeing. For a comprehensive list of services and programs, visit
www.iredellhealth.org.