FROM STAFF REPORTS
Gov. Roy Cooper announced on Tuesday that public schools across North Carolina could reopen at 50 percent capacity in August as the state continues to battle COVID-19.
Explaining that "careful, collaborative and painstaking work" led to the decision and public announcement, the governor said face coverings, social distancing and vigilant cleaning will be required in facilities that do open. Non-essential visitors will also be significantly restricted in those facilities, and activities that bring a large number of people together will not be permitted.
"We want to be done with this pandemic, but it is not done with us," Cooper said.
The state will provide five masks for every staff, teacher and student. And new protocols for cleaning and disinfecting for all schools and buses have been provided to every school district.
School districts are empowered to determine how best to open at the occupancy level set by the governor. They can also decide to provide 100 percent remote learning if that is deemed best for that district.
Every district will provide a remote-learning option for parents who do not want their children to attend schools.
Iredell-Statesville Schools officials outlined what reopening at 50 percent capacity would look like for the district on Monday. Learn More: Here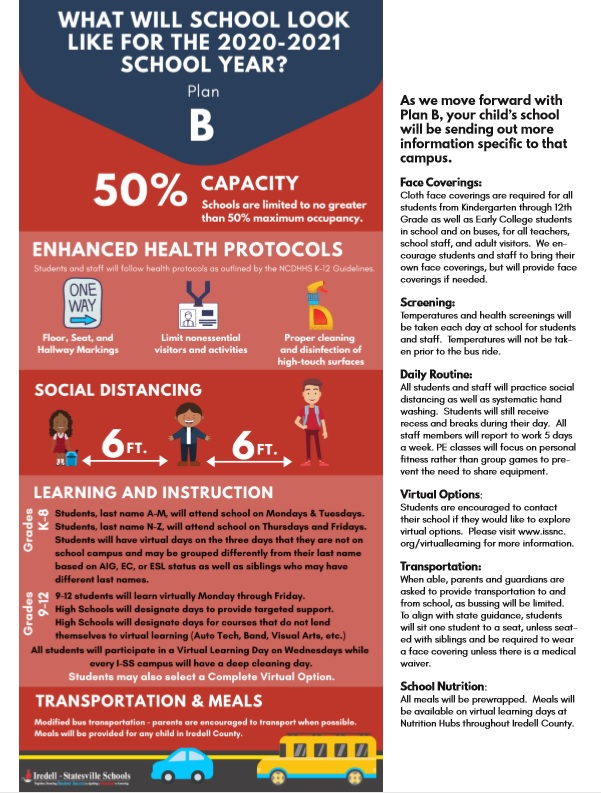 The N.C. Department of Health & Human Services provided the latest data on Tuesday, which includes:
♦ 89,484 total cases across the state;
♦ 1,956 new cases reported in the last 24 hours;
♦ 1,109 people currently hospitalized; and
♦ 1,552 people have died
Due to current conditions, Cooper announced the state would remain in Phase 2 of the reopening for three more weeks.