BY DEBBIE PAGE
debbiepage.iredellfreenews@gmail.com
Bryan Gruesbeck was officially sworn in as the new Troutman town manager on Thursday night. He will begin his duties on Monday.
Mayor Teross Young, after administering the oath of office, said Gruesbeck will bring a rich history of government and town manager experience to Troutman. The mayor felt the council made "an outstanding choice" for the position.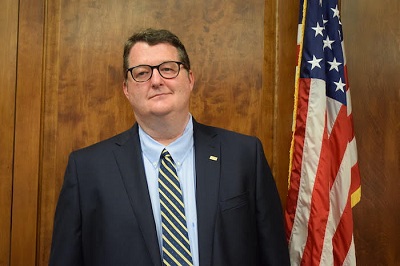 Gruesbeck will earn an annual salary of $95,000 and receive $5,000 in moving expenses and a $5,000 bonus once he moves with the town limits permanently. Other benefits include 15 days paid vacation and 12 sick leave days per year as well as paid health, life, and disability insurance. He will also receive a $300 monthly auto allowance to use his personal car for town business with additional mileage reimbursement if he travels more than 75 miles from Troutman. He will receive $60 per month for cell phone reimbursement.
The town will also pay into a 401(k), Local Government Employees Retirement System contributions, and costs and expenses for Gruesbeck's personal professional development and his related professional and civic club memberships.
Gruesbeck has 20 years of experience in town government, including his recent seven-year stint as town manager in Pittsboro, which is facing tremendous growth challenges similar to Troutman.
The new town manager sees a lot of place identification potential with Troutman's accessibility to the Charlotte metro region, Lake Norman, Lake Norman State Park, and recreational opportunities, such as the greenways and ESC Park amenities.
Gruesbeck is pleased with the town's conservative approach in the just passed fiscal year budget in light of the recent economic downturn during the pandemic. "I prefer a conservative budget approach even in the good times."
"We of course need to do capital projects and improve things, but without overspending. We have to be realistic about revenue prospects and position ourselves with spending. If we get a pleasant surprise, we can then do more of the things we want to do."
Gruesbeck also wants to help improve the climate for businesses in the area, continue downtown revitalization, and continue the work of the Troutman Business Council.
Gruesbeck enjoys being out in the community and staying involved. "I like to err on the side of being available and being active," he said.