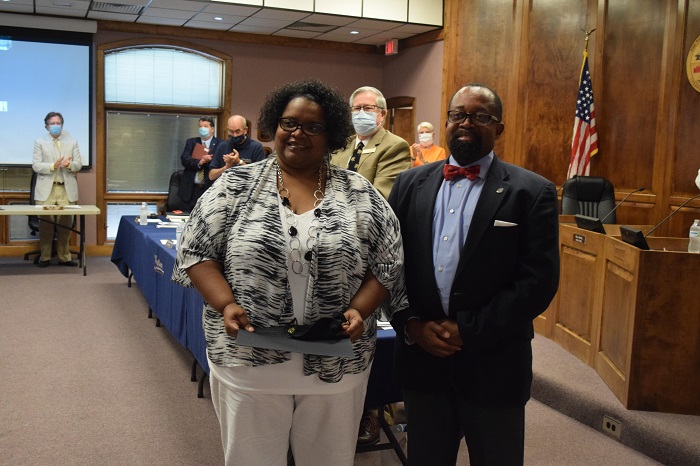 BY DEBBIE PAGE
debbiepage.iredellfreenews@gmail.com
Felina Harris was honored by the Town of Troutman for her "heartfelt dedication in serving the community and distributing food to those in need during the COVID-19 pandemic."
Mayor Teross Young presented Harris with a certificate of appreciation during Thursday's council meeting.
"Felina, without hesitation, reacted to the need of many school-aged children and their families that do not have adequate food resources when school is not in session," the mayor said. "This basic need is one that many of us often take for granted. "
While the school district was preparing and coordinating its response plan in the early days of the pandemic, Harris and her team — which she refers to as "her village" — filled in the gaps.
"She communicated the needs and her goals, and this group brought them to life," Young explained. "Her village followed her leadership, and they accomplished great things for many in need — and they did so without being asked and without seeking recognition."
"This speaks to who Felina Harris is at her core — one who gives and does so without the thought or desire for credit or accolades. Her thoughtfulness and acts of kindness are what kept many families in Troutman fed for many weeks, and this did not go unnoticed. … We appreciate your heart and leadership for the people of Troutman. You make us better."
After receiving the award, Harris thanked the others who helped in the effort.
"I was born and raised here in Troutman. I love my town, and I just wanted to see my people fed. Thank you for all this," she said.
Harris later revealed that her dad, Gerry Clarke, had watched proudly as she was honored. He told her afterward that she reminded him of her late mother, Marilyn, who modeled community service to her family.
"Helping others, to me, is a way to honor her memory," Harris said.
When the pandemic hit, Harris said "the first thing I realized that with the kids not in school, they would not get their daily breakfast and lunch or their weekend food bags. We have children that would go hungry without those food bags."
After Harris posted an appeal for donated food on Facebook, she was overwhelmed with the Troutman community's response. "People wanted to help, either donating money or food," she said.
New Life Missionary Baptist Church member Amanda Johnson offered church space to collect donated food and to pack bags for students and larger boxes of food for families. Those in need could drive through for low-contact food assistance.
Harris said that an army of donors and volunteers made the effort possible. She particularly thanked Teresa McConnaughey and Marzetta Swearengen for their dedicated efforts.
An estimated 75 people donated money, some as little as $5, in support of the effort.
Harris and other volunteers went to the local Food Lion to shop. Employees helped with selecting the food and loading up the large purchases, and Food Lion also made donations to the cause.
The pop-up food pantry was open in the first three weeks of the pandemic to fill the nutritional gap as Iredell-Statesville Schools was ramping up its food distribution capabilities. After local restaurants began offering free lunches to children and the school system food service was in full swing, demand dropped so Harris closed the local effort.
"It felt good to step in that little bit of time to help children," she said.
Harris is also active in the Circle of Giving, a Statesville nonprofit that help individuals and families in poverty. The women's organization holds fundraising events throughout the year.
She also serves on the Board of Directors for Iredell Christian Ministries and co-hosts the Statesville Vanguard Show, which discusses local events and issues facing the community.
In addition to caring for her family, husband Kenny and sons Andrew and Ethan, Harris has worked for 20 years in the information technology department in Mecklenburg County. She is currently the IT Customer Relationship Manager.
She received her Bachelor of Science in Business Administration from Western Carolina University, her Master of Business Administration from Gardner-Webb University, and her Certified Government Chief Information Officer credentials from the University of North Carolina at Chapel Hill.