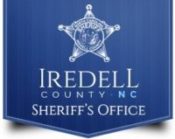 FROM STAFF REPORTS
The Iredell County Sheriff's Office is investigating the death of a 15-month-old boy who apparently drowned Tuesday evening in western Iredell County.
The ICSO was dispatched to the 1000 block of Sharon School Road for a possible drowning, Sheriff Darren Campbell said in a news release.
Several first-responder units were also dispatched to assist. The child was transported to a local hospital, where he was pronounced dead.
The investigation is ongoing at this time, Campbell said, but foul play is not suspected.