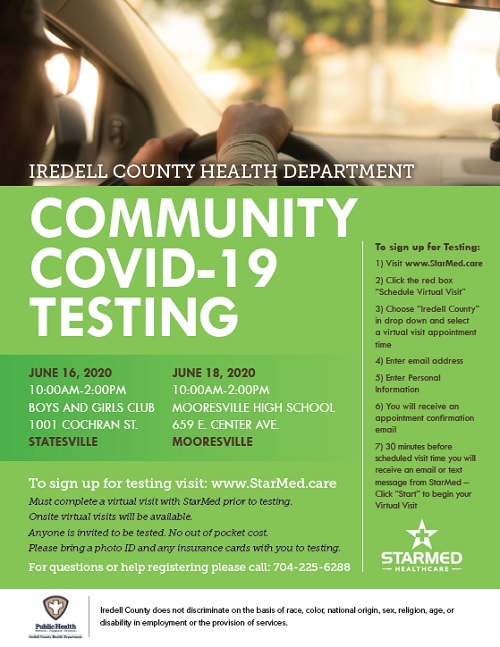 Special to Iredell Free News
The Iredell County Health Department and StarMed Healthcare of Charlotte have partnered to provide additional COVID-19 testing opportunities in Statesville and Mooresville locations every week in June and July.
Partnerships with organizations such as StarMed help to increase community testing opportunities. This leads to quicker identification of positive cases and action to prevent further spread of COVID-19 in the community.
No cost drive-thru testing will be offered 10 a.m. to 2 p.m. on the following dates:
• Tuesday, June 16: Boys and Girls Club (1001 Cochran Street, Statesville)
• Thursday, June 18: Mooresville High School (659 E. Center Avenue, Mooresville)
• Tuesday, June 23: Western Avenue Baptist Church (1206 Museum Road, Statesville)
• Thursday, June 25: Mooresville High School (659 E. Center Avenue, Mooresville)
Anyone is invited to receive testing. Additional testing sites may be added based on the needs of our community.
All patients must complete a virtual visit with StarMed prior to testing. To sign-up for a testing virtual visit, please go to www.StarMed.care and click the red box "Schedule Virtual Visit." Choose "Iredell County" in the drop-down box and select a virtual visit appointment time. Answer the questions to receive a virtual appointment confirmation email.
During scheduling the virtual appointment, please have insurance information ready. If the patient does not have insurance, they can still be tested.
It is recommended that a virtual visit be completed in advance due to the limited number of tests available.
LEARN MORE
For questions or assistance with scheduling, please call StarMed at 704-225-6288.
For general information from the Iredell County Health Department about COVID-19, visit https://www.co.iredell.nc.us/1383/Coronavirus-COVID-19.