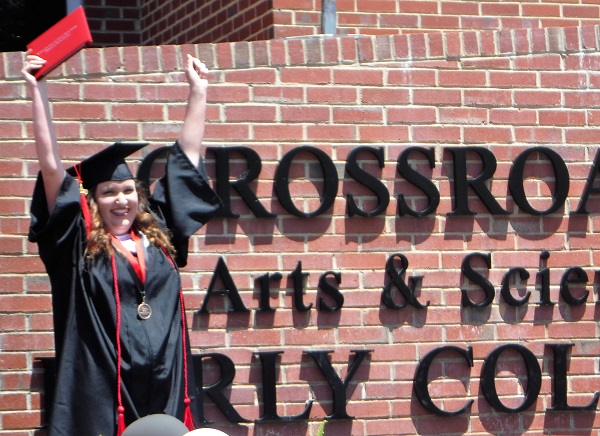 BY KARISSA MILLER
Nearly all 57 Crossroads Arts and Science Early College High School graduates participated in a special drive-thru graduation ceremony on Friday.
Jamay Tabb watched as her daughter Elyscha Webb walked up the front steps of the school and then descended with her diploma.
As "Pomp and Circumstance" played in the background, teacher Michael Williams announced Webb, who then walked towards Principal Alicia Eller.
Eller stood on small stage out in front of the school as she handed Webb her diploma.
While it wasn't the moment Tabb anticipated, she said it was a moment she won't forget.
"She's my rock and she's always been there by my side through all my ups and down. She's a special young lady. I'm just so proud of her," Tabb said.
Webb said she appreciates the quality education that she's received and the guidance she's received at Crossroads. She plans to attend Western Carolina University in the fall.
"They really care about you. They take their time and try to get you on the right path for whatever career you want to do. … They really get to know their students and invest in them. That's why I like this early college," Webb said.
Due to the COVID-19 crowd restrictions, students signed up for different time slots that spanned across the entire day for their individual graduation ceremony.
While the expectation was that each school would participate in a video tribute, Eller said that she and Crossroads staff wanted to do something more for their graduates.
"We felt bad for the students missing out on having something take place on their actual commencement day."
Friday would have been the school's actual graduation day.
"Since we couldn't have them all come through at one time — we just thought we would divide up the day and still give them something special to honor and congratulate them on their hard work," she added.
The school also purchased all grads Crossroads Class of 2020 T-shirts and honored them with other small gifts.
"We are proud of them. A video doesn't do the same thing. It's nice to see them in person, even though we can't hug them."
A traditional graduation ceremony for Crossroads will take place on Aug. 2. A time has not been determined yet.
BY THE NUMBERS
• 57 graduates
• 40 Honors graduates
• 43 earned an associate degree
• 1 cosmetology diploma
• 2 going in military
• $1.8 million in scholarships so far
Photo Gallery